Shaping tomorrow, now!
The 15th DW Global Media Forum – find out how Germany uses this meeting to foster journalism in times of crisis.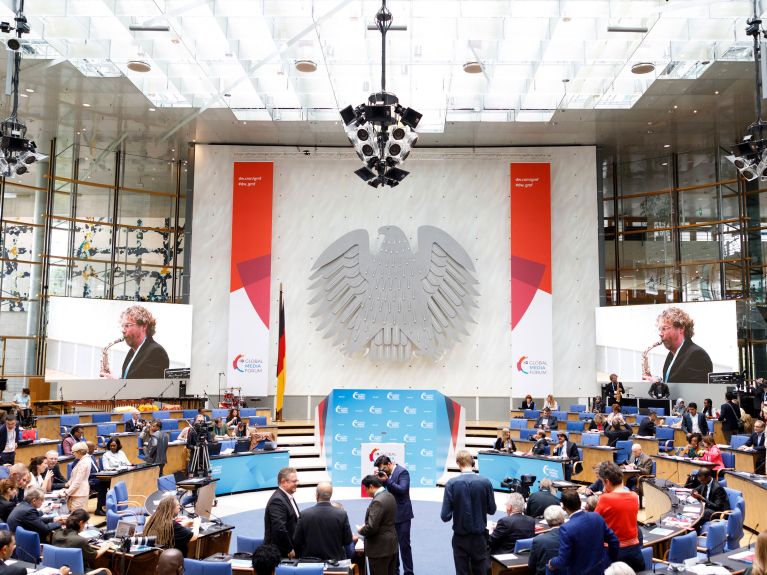 What is the Global Media Forum?
The GMF's objective is to discuss innovative and future-oriented solutions for media professionals with media professionals, observers and academics with a view to fostering resilient journalism and a democratic civil society. This is what its host Deutsche Welle has to say: "The DW Global Media Forum is an interdisciplinary, international platform for exchange between media professionals and decision-makers from politics, civil society, culture, education, business and science."
How long has the GMF been in existence?
For the past 15 years, the GMF has been staged in Bonn and online by Deutsche Welle, with the support of the German government and the state of North Rhine-Westphalia. It is part of the German federal government's efforts to support freedom, democracy, pluralism, freedom of the press and expression and civic engagement worldwide.
What is the topic for the GMF in 2022?
On 20 and 21 June 2022, the 15th DW Global Media Forum will be exploring journalism in times of crisis and how to strengthen civil society, its title being "Shaping tomorrow, now!". Global crises such as climate change, the Covid-19 pandemic, migration and refugee movements, the war in Ukraine and the emerging food crisis it is causing affect everyone. This creates particular challenges for journalism and media freedom – which are the key focal themes of the 2022 forum.
Who is taking part?
More than 2,000 media professionals from over 120 countries will be taking part in the forum, either in Bonn or online. The more than 100 speakers include the Nobel Peace laureate and investigative journalist Maria Ressa and Claudia Roth, Germany's minister of state for culture and media.
What is the Deutsche Welle's Freedom of Speech Award?
This award honours a person or an initiative that has played an important role in promoting the rights of freedom, especially freedom of the press and expression. In 2022, the award will go to the Associated Press journalist and author Mstyslav Chernov and the freelance photojournalist Evgeniy Maloletka from Ukraine.
What is the "Start-up contest @GMF"?
This competition sees start-ups, entrepreneurs and talented individuals from the areas of media technology and innovation worldwide pitching their ideas and projects to a global audience of experts.
What does DW Director General Peter Limbourg say about the GMF?
"Deutsche Welle supports journalists all over the world, helping them to carry out their important work unhindered by promoting freedom of expression and the press and the safety of journalists. DW Akademie is a leading partner when it comes to developing robust media systems and setting standards in journalist training."


Find further information here: DW Global Media Forum Newsletter. The GMF on Twitter, LinkedIn and Facebook.