Golden Globe for a German movie
Diane Kruger and Fatih Akin were honoured in Beverly Hills with the Golden Globe for "In the Fade" as the best foreign-language movie.
08.01.2018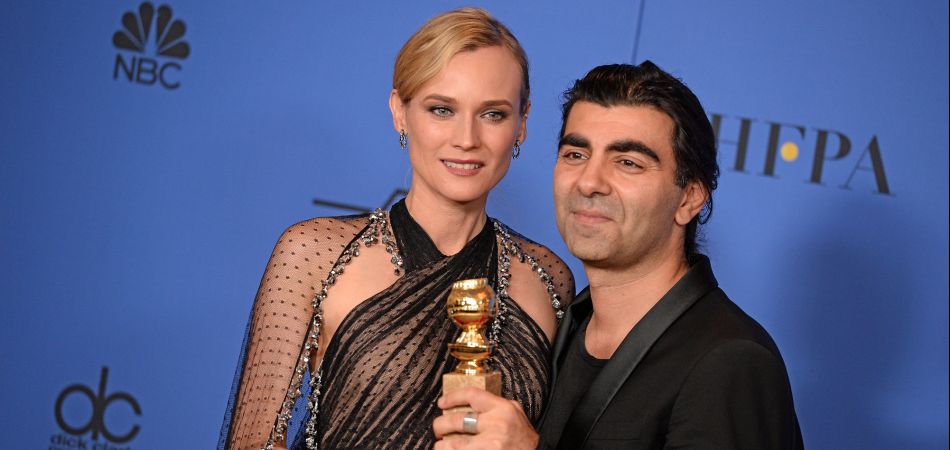 What is "In the Fade" about?
A nail-bomb attack kills Katja's husband Nuri Şekerci and their small son. Katja verges on being crushed by her sorrow. The police suspects that the perpetrators were members of the Turkish or Kurdish underworld and ask Katja about her husband's origins. However, Katja's own suspicion soon firms up: A extreme right-wing couple are arrested on suspicion of the double murder. Katja despairs at the way the wheels of the judiciary turns and she plans a revenge of her own.
What is the real background?
There are parallels to the series of attacks and murders by the right-wing terrorist group called "Nationalsozialistischer Untergrund" (NSU). What is now certain is that between 2000 and 2007 the main NSU perpetrators – Uwe Böhnhardt, Uwe Mundlos and Beate Zschäpe – murdered nine immigrants (mainly of Turkish descent) and one policewoman and committed three bombing attacks (Nuremberg 1999, Cologne 2001 and 2004). The criminal investigators determined that Böhnhardt and Mundlos both died in 2011 by extended suicide. In 2018, the court is expected to pass sentence in the case of Beate Zschäpe. The figure of the young right-wing extremists in "In the Fade" draws on Beate Zschäpe. The second NSU bombing attack in Cologne featured a nail bomb. What is more, in the case of the series of murders and bombings the investigators for a long time went down the wrong path and only at a very late stage shed light on the extreme right-wing background to it. Hamburg director Fatih Akin is by no means simply interested in retelling the story of the NSU crimes. Instead, the focus is firmly on the figure of Katja. Akin emphasizes that "often media coverage of the victims is far too little. I ask myself: How do those left behind get through life?"
Why does Hollywood star Diane Kruger play the main role in the German movie?
German actress Diane Kruger, who moved first to Paris and then the US at an early stage in her career, has been feted for her portrayal of Katja. For her first German-language movie she won the prize at the Cannes Film Festival for the best actress. Kruger had previously been best known for her roles in blockbusters such as "Troy" and "Inglourious Basterds". Fatih Akin first met Diane Kruger in 2012 in Cannes. He wrote the role of Katja specifically with her in mind. Kruger herself says "Fatih's movies sort of marked my generation, like Head-On. At first, when I got the script, I was like how did he think about me for that role? It's not what I get typically offered."