"I had a dream"
How Berlin-based Japanese artist Chiharu Shiota is enchanting the art world.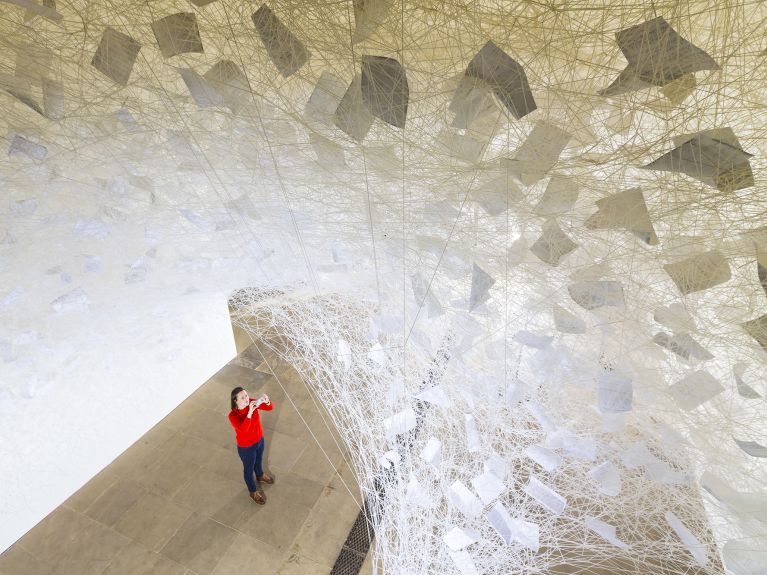 Ms Shiota, net-like installations made of woollen thread are your trademark. What made you want to use this material?
Originally I studied painting, but it didn't give me the fulfilment I was looking for. I decided to go to the Canberra School of Art in Australia for a year. While I was there, I had a strange dream one night. I was part of a three-dimensional painting and couldn't breathe, because I was covered in paint. This dream inspired my performance "Becoming Painting". After that I knew I had to create art using my body. Back in Germany I felt very restless. When I was sitting in my bedroom one day, I started spinning black wool around me and that gave me the idea for my "During Sleep" installation. I started using wool to create spaces that have different meanings. With the black wool I aim to reconstruct the night sky or the cosmos, and with the red wool I visualise human connections and relationships. 
You frequently spin wool around everyday objects in your installations. What significance does that have for you? 
I believe that the objects we surround ourselves with have a special connection with us. When I bought an old suitcase from a flea market in Berlin, I found a magazine dating from 1947 inside it and I could really feel the presence of the previous owner. When you get up out of bed, your body leaves a distinct impression in the mattress that is entirely different to that left by someone else. I find these aspects fascinating and seek to visualise them in my installations. 
The "Bauhaus" was founded 100 years ago. In the weaving workshop women discovered how yarn finds a shape all of its own. What connects you to the art and design college?
The Bauhaus had a major influence on art and revolutionised the principle underlying art colleges, but I have no special connection to the Bauhaus. My art is indeed often associated with crafts trades and femininity, but the lines I create with yarn are like brushstrokes in a painting. Instead of using a brush and canvas, I work with yarn in the space.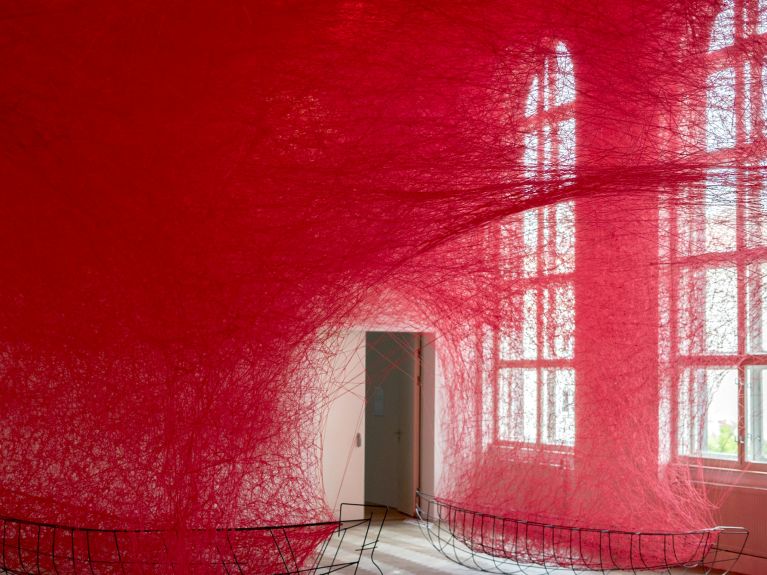 Your show together with other Berlin artists at the city's Martin-Gropius-Bau begins on 21 March 2019. What significance does that have for you?
I have seen numerous impressive exhibitions at the Martin-Gropius-Bau and am delighted to be able to exhibit there myself. Despite having lived in the capital for so long, I have rarely exhibited in Berlin, making it an especial pleasure when I can stage a show in Berlin. For the Martin-Gropius-Bau I am creating a thread installation in the atrium. I will use the threads to connect the history of the building with present-day Berlin.
How does Berlin influence your art?
Berlin has always had a strong influence on me. When I moved to Berlin there was still so much to discover, a great deal was changing and I drew a lot of inspiration from the city, for example for my "Inside-Outside" installation. Eight years after the Wall came down Berlin was essentially one huge building site; some buildings were demolished, others renovated. Over the course of several months I went about collecting windows from former buildings in East Berlin. I have the feeling that windows separate the inside and outside and vice versa. Sometimes these two areas blend and I no longer know which side I am on. I've had the same feeling since leaving Japan.
Interview: Martin Orth