Berlin model maker for Hollywood
"Asteroid City" and many other films: why Simon Weisse is a particularly sought-after man in Hollywood – not only for Wes Anderson's films.
"Everything is bigger in America," says Simon Weisse – yet he's the man Hollywood hires when things need to be scaled down a little. Weisse makes miniature models. Together with his team of up to 15 colleagues, he can recreate buildings, streets and even entire landscapes in miniature, or – as recently in the case of the US cinema production "Asteroid City" – a railway, a crater and a spaceship. Director Wes Anderson wanted not just a transparent spaceship but a whole train with 20 carriages on a scale of 1:8, with a total length of between 40 and 50 metres. "The sculptors even put tiny oranges and avocados on the vegetable wagon. You only see it briefly in the film," says Weisse, describing the months he spent working on the bizarre comedy about an American desert town where an alien lands.
Weisse's studio is located in Berlin-Neukölln, in a backyard on Karl-Marx-Strasse. The doors are always closed here: as soon as one project is finished, the next one starts right away, and the Hollywood studios don't like any details to leak out, however small. So why do these orders from America come to Germany of all places, and why are analogue buildings still being built at all when virtually everything can be produced digitally on the computer nowadays? "20 years ago I thought I'd never build miniatures again. But I'm actually a bit overworked at the moment," says 61-year-old Weisse: "We get so many requests where people want to use these old techniques again. I always say it's a matter of artistic choice: three-dimensional simply looks different from digital, and now it's coming back."
"Grand Budapest Hotel" was the international breakthrough
But there's hardly anyone left who can do this job. Berlin-based Weisse has very few competitors. He gets requests from Italy, France and, of course, Germany, where he most recently worked on the science fiction film "Wow! Nachricht aus dem All". But the miniature specialist has mainly been hired by Americans ever since he first worked with Wes Anderson in 2013, when he built the Grand Budapest Hotel. "A request went out through Studio Babelsberg asking if there was anyone in Europe who still made classic miniature sets for visual effects, and they were kind enough to remember me."
Weisse seems modest, but he's pleased that Wes Anderson now regularly draws on his services when making his films. After "Grand Budapest Hotel", "Isle of Dogs", "The French Dispatch" and "Asteroid City", their fifth film together – an adaptation of Roald Dahl's "The Wonderful Story of Henry Sugar" – is due to be released at the end of 2023. Weisse describes working with Anderson: "It's very peculiar with Wes. He goes to the set when he has to work with the actors. Otherwise he keeps a very low profile." Communication is mostly via e-mail. Weisse sends drafts, Anderson comments on them. "He's not so interested in the models themselves: instead he always wants to know what things will look like in the film afterwards," says Weisse. "So I get my camera and set it up to take a photo of our model so that it looks exactly as it will in the film."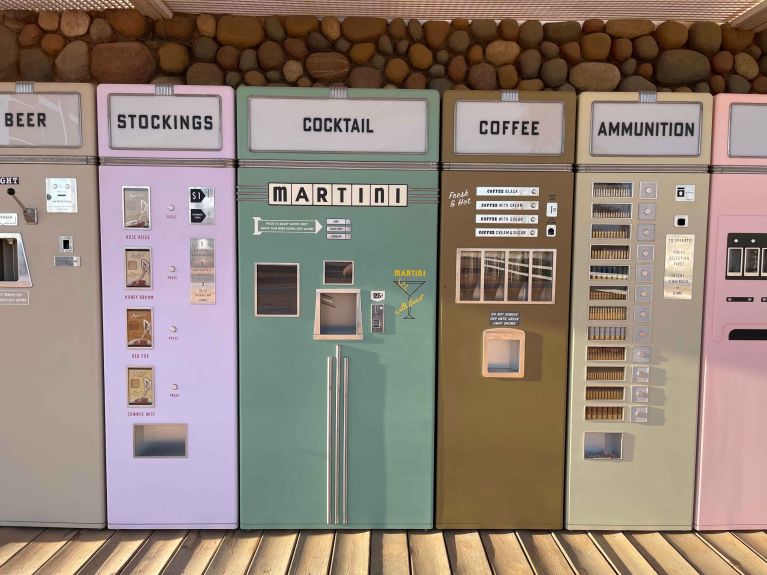 Care and an obsession with detail are the hallmarks of Simon Weisse, and he has long been appreciated by other international directors. Steven Spielberg hired him for his agent thriller "Bridge of Spies", Lana Wachowski made use of his services for the fourth part of the science fiction series "Matrix", and Francis Lawrence had him work on his apocalyptic saga "The Tributes of Panem". And Weisse doesn't just create miniature buildings, either: he also makes props that need a science-fiction look. "We're very traditional, and we work a lot with wood, plastics and metal," explains Weisse. "Recently we've been using the 3D printer more and more, but for us it's just a tool like any other. A good 3D printer is as important to me as a good circular saw."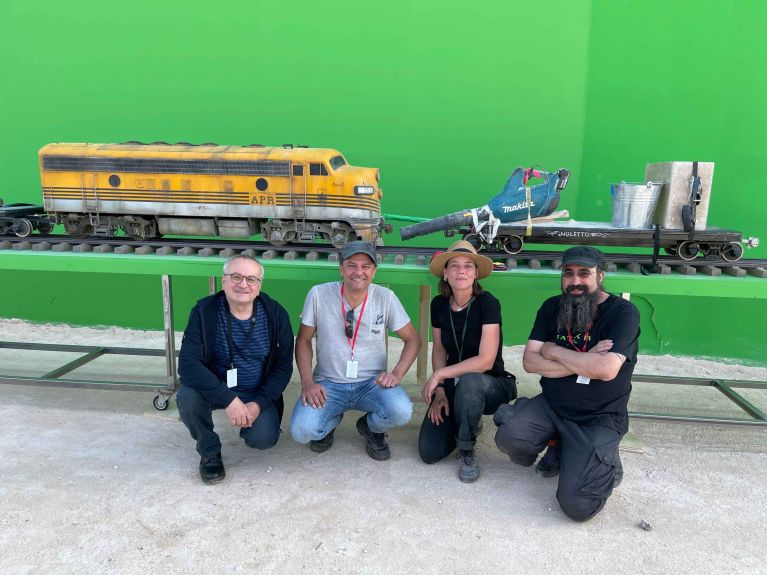 But how do you become a model maker? "I originally studied art. My father was a stills photographer in film, so it was through him that I got my first part-time jobs. My first one was 'The Adventures of Baron Münchhausen' in 1988. That's how I got into it." Leo Weisse, who died in 2000, would take his son to film sets as a child, awakening his passion. Nowadays Simon Weisse concentrates entirely on his buildings when on the film set; he tends to avoid big stars like Scarlett Johansson and Tom Hanks who play lead roles in "Asteroid City". "Everyone has a job to do on set," he explains. "Sure, you might get talking if you happen to be sitting next to someone at lunch. But that's not something I'm focussed on." Simon Weisse is a professional, which is exactly why he is so highly regarded internationally.