Successful film nation
Motion pictures from Germany are well received internationally; award-winning international productions are also made here.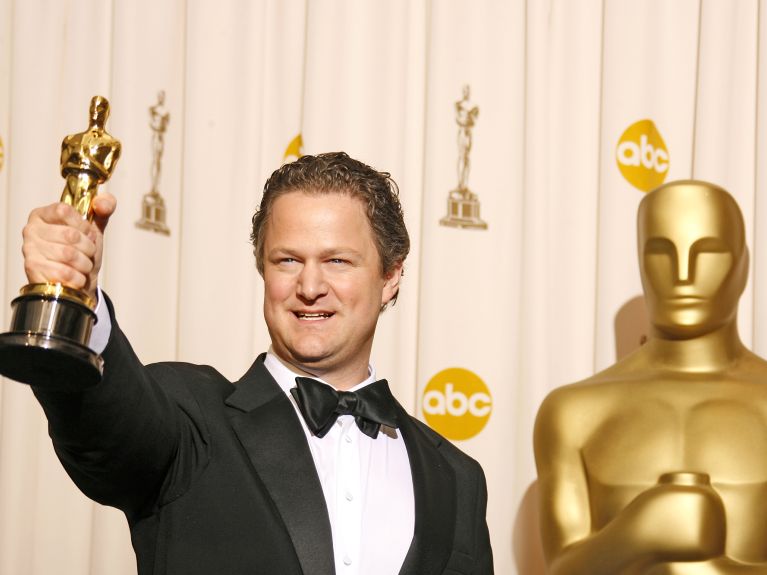 Germany is a film nation, making some 250 films a year. Festival successes such as Maren Ade's tragicomedy "Toni Erdmann" and dramas "Wild" by Nicolette Krebitz and "Axolotl Overkill" by Helene Hegemann repeatedly shine a light on Germany as a movie-making country on the international scene. Yet it is not only at festivals that German films are successful – they also score at the box office, both at home and abroad. In 2016, 27.7 million cinema-goers watched German films, which equates to a market share of 22.7 percent. In May 2017 "Toni Erdmann" had been sold in more than 100 countries and shown in cinemas in around 40 countries. Up-and-coming young directors such as Jonas Rothlaender ("Fado") are finding audiences just as well as makers of hit films with a wide appeal, such as actor and director Til Schweiger with "Honig im Kopf" and Bora Dagtekin with the comedy "Fack Ju Göthe!" And the German cinema-scape has long since also been shaped by renowned writer-directors such as Volker Schlöndorff, whose "Rückkehr nach Montauk" premiered at the 2017 Berlinale. The variety of artistic signatures and genres at present is impressive, and is rooted in a long cinematographic tradition.
Attractive film production landscape
Germany boasts a number of important film locations, for instance in Munich, Hamburg and Cologne. Studio Babelsberg in Potsdam near Berlin is internationally renowned. It was founded as early as 1912, making it the oldest large-scale film studio in the world. Films have been made here ever since. Worldwide, Babelsberg stands for an important film-making heritage particularly from the 1910s and 1920s, linked to such names as Fritz Lang ("Metropolis"), Friedrich Wilhelm Murnau ("Nosferatu") and stars such as Marlene Dietrich. Today, thanks to cutting-edge studios and an internationally experienced team of filmmakers and technical experts, it is not only major national but also international productions that are made at Babelsberg. For example, among others "The Bourne Ultimatum", "Inglourious Basterds" and "The Monuments Men" were partly made at Studio Babelsberg, as were the Oscar-winning films "The Counterfeiters", "The Reader" and "The Grand Budapest Hotel". Today, in addition to the film studios, a film park, Film University Babelsberg Konrad Wolf and secondary school Babelsberger Filmgymnasium, the media hub of Babelsberg is also home to numerous other institutions and companies in the media industry. Filmic talent coaching, training and production are networked in exemplary fashion in Babelsberg.
In the area of visual effects too, which is increasingly gaining in significance, internationally acclaimed German companies such as Pixomondo, Rise FX and Mackevision can hold their own against global competitors. They are also hired for the digital processing of major American productions. Pixomondo won an Emmy Award for "Game of Thrones", for instance. And Martin Scorsese's 2012 Oscar-winning adventure film "Hugo" was in part produced in Germany.
Federal and state film funding
Cinema productions receive financial support at both the federal and state levels. Federal support takes the form, for example, of the Federal Government Commissioner for Culture and the Media (BKM), Minister of State Monika Grütters, with the German Federal Film Fund (DFFF) and cultural film funding, and of the German Federal Film Board (FFA). At the state level, each federal state has its own funding bodies. That said, it is becoming increasingly difficult to make films as funding bases and models are changing and films have to hold their own in the face of international competition. In order to keep Germany competitive as a filmmaking location in the future too, the BKM raised its cultural film funding in 2016 and 2017 by 15 million euros to 18 million euros. This will make a substantial contribution to enabling the development, production and analysis of artistically outstanding German feature films. Moreover, on the occasion of the 2017 Berlinale the BKM raised the DFFF for 2017 by 25 million euros to 75 million euros; the plan for 2018 is to increase the total sum to as much as 125 million euros. These measures are intended to strengthen in particular Germany's edge in the competition for major international productions.
In terms of cinema, Berlin and Potsdam's Babelsberg district are out in front: In 2016 over 1,800 film companies booked annual sales of some 900 million euros. Bavaria is in second place with Munich-based Constantin, one of the top entertainment firms in Germany, and North Rhine-Westphalia third.
Prominent festivals
Naturally, the economic aspect of film production is not the only important thing; after all, the films need to reach their audience. To this end they must be brought to the public's attention, for example through marketing and film festivals. The Berlin International Film Festival, which takes place in the German capital every February, is the most prominent event in the German film sector. The Hof International Film Festival and Festival Max Ophüls Preis in Saarbrücken are also long-established, key platforms for new aesthetic styles. The most renowned and with around three million euros the most highly endowed distinction in cinema is the Deutscher Filmpreis (German Film Awards), also called the Lola Awards. The award-winners are chosen by the members of the German Film Academy.
Quality training for filmmakers
A great many aspiring filmmakers, who primarily present their work in Hof and Saarbrücken, dream of receiving a German Film Award. Training is offered throughout the country at state as well as private teaching institutions. In addition, there are special classes at art and design universities, a number of private colleges such as the Internationale Filmschule Köln, the semi-state Hamburg Media School and, in many faculties, courses in film theory and history, and highly topical and internationally recognized study programmes in visual effects and animation. The former film and television school Hochschule für Film und Fernsehen Konrad Wolf in Babelsberg became Germany's first and to date only Film University several years ago. Various other schools also enjoy an excellent reputation as training institutions, such as the Deutsche Film- und Fernsehakademie Berlin, Munich's Hochschule für Fernsehen und Film and Film Academy Baden-Württemberg in Ludwigsburg – one of the largest training institutions for aspiring filmmakers in Germany, with around 500 students. The internationally acclaimed German director Wim Wenders, for instance, enrolled in 1967 at the then newly founded Hochschule für Fernsehen und Film in Munich.