The "Kinshasa Collection"
The Goethe Institut is presenting an online documentary film project on the trend-setting metropolis in the Democratic Republic of the Congo.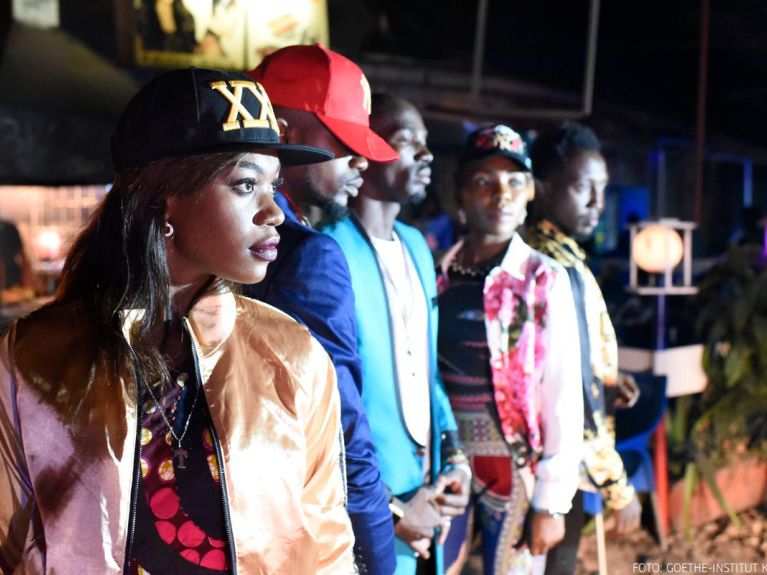 Kinshasa, the sprawling metropolis on the banks of the Congo River, is fast emerging as the capital of new urban trends and is also termed the "Paris of Africa". People here set great store by styling – irrespective of the milieu to which they belong. And that includes catching the eye in everyday life with extraordinarily designed clothes. The Congolese "fashionistas" do more than simply parade their fashion consciousness: The bright colours, unusual patterns and imaginative combinations are also confident political statements. They defy the Western images of Africa as a poor continent riven by wars and conflicts. 
The China connection
Kinshasa has become a magnet for young "influencers", both designers and creative fashion-makers. Since becoming one of China's most important trading partners in Africa, the DR Congo is importing an ever-growing volume of textiles; Congolese seamstresses are gradually being squeezed out of business. In the shadow of these economic relationships, a race for profitable niches is also taking place: At the grassroots level, micro and small entrepreneurs are, for example, working on virtual business concepts.
The "Kinshasa Collection" project, a collaboration between Goethe Institut and pong Film, focusses on the distribution paths in the global textile trade, taking the example of fashion metropolis Kinshasa. The trade channels run between China and DR Congo – and even as far as Europe. In five film episodes, the project traces the emergence of new trends, niches and business models in Kinshasa. Here, fashion is also an all-purpose frame in which not only goods, but also identities can be renegotiated. With a casual sense of irony, the project highlights the Western (re-)production of images of Africa and the Western approach to brand piracy. From 28 July onwards, every two weeks a new episode will go online at www.kinshasa-collection.com (in the respective original language with English, French and German subtitles).
Fashion show in Germany
Parallel to this, a special fashion brand is set to be created under the "Kinshasa Collection" label, with German, Congolese and Chinese designers working on it. Designers and "influencers" from Kinshasa and Berlin are developing it by recombining existing fashions. The collection will go on display on 11 August at a fashion show in Berlin's Haus der Kulturen der Welt (HKW).