On the air in the country
My Kuh Tube and more: farmers from Germany show the diversity of their profession on social media channels. Three portraits.
Johannes Göbel / 05.10.2021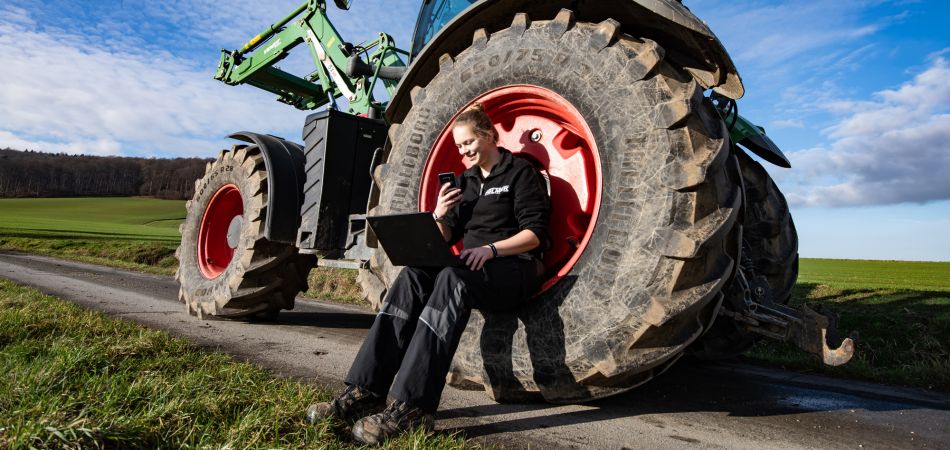 Ann-Christin Kahler: out and about with large machines
Ann-Christin Kahler lends a hand – as an agricultural machinery expert, member of the volunteer fire brigade and on the farm where she grew up. Today the farm is run by her siblings and parents. The part-time business in Hesse grows grain; pigs and chickens are kept for self-supply, and the produce is distributed among family and neighbours. The company is breaking new ground by keeping water buffalo, some of which are sold as breeding animals. Kahler's Instagram account, with over 45,000 subscribers, shows the buffalo and numerous large machines, which the machinery specialist knows inside out.
My Kuh Tube: together giving agriculture a voice
My Kuh Tube (My Cow Tube) has been on YouTube since 2013: the channel of the Lower Saxony State Association of the Dairy Industry shows hundreds of videos and presents itself as a "direct line to Lower Saxony cattle stalls". The variety of topics is broad, ranging from economic concerns and environmental issues to "biological fly control" and a guitar concert in a cowshed. But it is about much more than entertainment. "It's important to me that the entire profession has a voice", says, for example, Amos Venema, a "record producer" at My Kuh Tube, with around 200 videos, and operator of a dairy farm in Jemgum, East Frisia. Just recently he spoke to the trade magazine Land & Forst about concerns for the future: "Agriculture is the engine of the country. And when the farms die, the villages die, and then the countryside dies too. "
With the "Deichdeern", App aufs Land
Julia Nissen broadcasts from the far north of Germany on many channels: as "Deichdeern", a girl from the dykes, she has long been present on social media and active on Facebook, Instagram, Pinterest and Twitter. Nissen lives with her husband and children on a farm in Schleswig-Holstein, and every month she presents a new focus on agriculture on Instagram – for example, in September 2021on maize. Nissen recently founded the App aufs Land (App in the Country) platform, which conveys country experiences from person to person. From cooking to farm visits, climbing a windmill to Low German or Frisian language courses.
You would like to receive regular information about Germany? Subscribe here: