"COP of solidarity"
Minister of State Anna Lührmann talks about Germany's objectives for the international climate change conference and for the need for solidarity at COP27.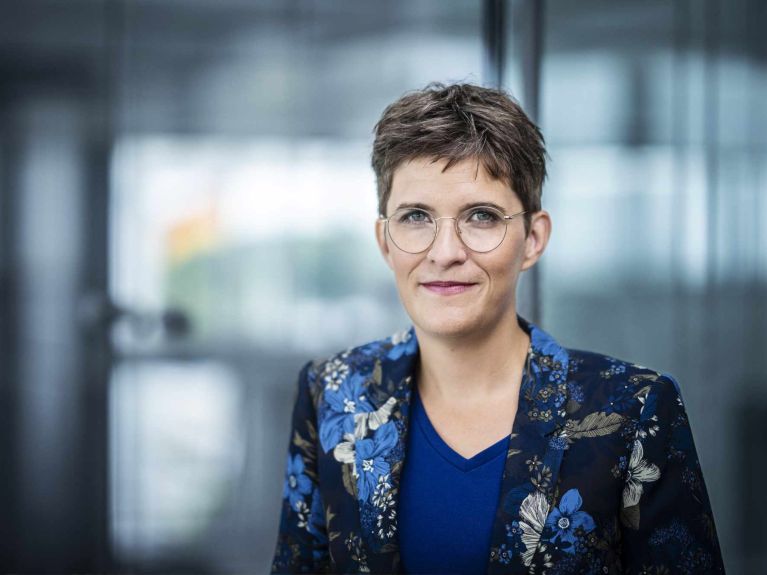 Anna Lührmann has been Minister of State for Europe and Climate at Germany's Federal Foreign Office since December 2021. She talks about Germany's objectives for the international climate change conference due to take place in Egypt in November, about the need for solidarity at COP27, and about the security risks associated with climate change worldwide.
Minister of State, which objectives has the Federal Government set itself for COP27?
I see three clear priorities for the next COP: first, it is important to restore confidence in multilateral processes, which have been undermined to some extent by the Russian war of aggression against Ukraine. If as a community of states we succeed in working together on climate change, a key issue for the whole of humankind, we will have already achieved a great deal.  
Second, this must be a COP of solidarity. Though the climate crisis affects everyone, it is the world's poorest countries that are particularly hard hit. The states that are disproportionately responsible for causing this crisis must now come to their aid.
Third, it is a question of actually keeping our promises to reduce greenhouse gases, as this is the only way we will be able to gain any control of the climate crisis.
How can we bring the community of states together?
It has become only too clear this year that we are all in the same boat. The catastrophic effects of the climate crisis have been felt in all parts of the world: be it the flooding in Pakistan, the droughts in Europe, crop failures in Africa or extreme weather events in America. Governments worldwide are realising that existential issues are at stake, and thus also security issues. I believe that it is this awareness of the consequences of climate change that can bring us together as a community of states.
In addition, as industrialised countries we must also provide financial support to our partners in the Global South as they move towards climate neutrality. And we must show that we can use a green transformation to establish an attractive model for economic growth and prosperity.
What concrete form might this solidarity you referred to take?
One central element is climate funding; we need to show solidarity in this respect. One concrete instrument that I see as game-changing are the so-called Just Energy Transition Partnerships. One such energy partnership has already been set up with South Africa, and other partnerships, for example with Indonesia, are set to follow. The G7 states are working together on this project, which concerns high levels of funding on the one hand, but also technology transfer. The partner countries commit to accelerating their energy transition activities, for instance by driving forward the phase-out of coal-fired power generation. In return, the G7 help them with this transition by providing funding and know-how.
You are the minister of state for Europe and climate. How important is the EU's role at the international climate conferences in particular?
The role played by the EU is very important because the EU negotiates on behalf of all 27 member states. As Germany's Federal Government, we do all we can to ensure that the European Union enters the negotiations with ambitious goals. This means for example that we put the subject of solidarity on the agenda when it comes to compensation for damage and losses caused by the climate crisis. And it also means Europe setting a good example and underpinning its own climate targets with ambitious measures.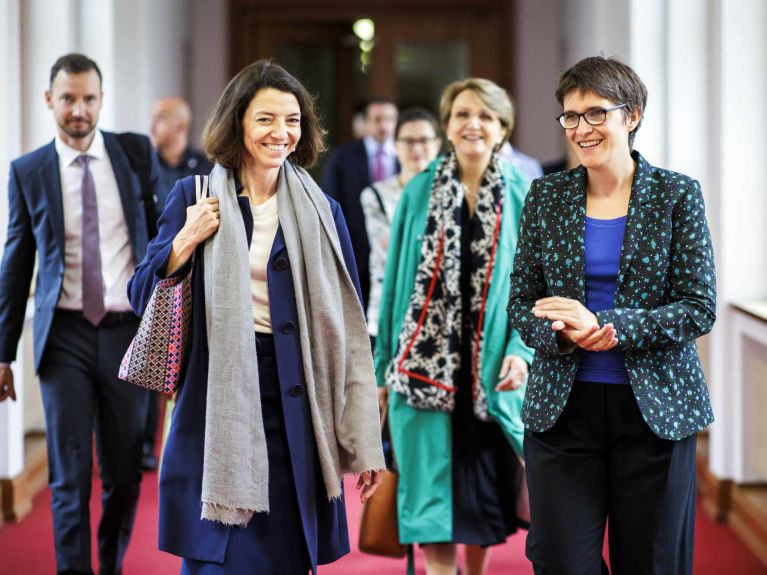 How important is technology transfer in the fight for more climate protection? And how important is it on the other hand that countries find their own solutions?
Generally speaking, fighting the climate crisis cannot make any progress without the development of new technologies. In Europe, markets have been increasingly emerging for electric cars and solar panels. This means that these technologies can become cheaper and better – and thus also more easily used in other countries.
What is important is for all states to deal with one another on an equal footing when addressing this issue. It is also a question of learning from one another. For example, we can learn from countries in the south which types of construction have better cooling properties.
Furthermore, solutions must always be tailored to local specificities. This is something we are already noticing in our attempts to improve the carbon footprint of the Federal Foreign Office. There is no point in simply ordering every Foreign Office representation abroad to purchase bikes for its employees, for instance. In some countries it is standard practice to use a bicycle for work purposes, while in others it isn't even possible for safety reasons.
The climate crisis is generally viewed as one of the biggest security risks worldwide. Why?
It all starts at the most fundamental level of security: the basis for people's livelihoods must be safeguarded. However, this basis will be increasingly at risk if the planet warms up, if sea levels rise and if droughts are experienced elsewhere. In addition, new conflicts can arise in some regions if vital resources such as water or food become scarce.
What is Germany doing to combat this risk?
The main challenge is still to reduce greenhouse gas emissions in order to mitigate the consequences of the climate crisis as far as possible. In this context, foreign and domestic policy are intertwined. We have currently set ourselves three goals in our climate diplomacy: firstly, we want to bring about a good outcome at COP27 in November. Secondly, we are placing climate protection at the forefront of our foreign policy by always highlighting the topic during international discussions and meetings, and by looking for further opportunities for cooperation. And thirdly, we are determined to lower emissions at all Federal Foreign Office representations abroad.
You would like to receive regular information about Germany? Subscribe here: