The Berlin Energy Transition Dialogue
International experts discuss the possibilities of a global energy transition at the Federal Foreign Office.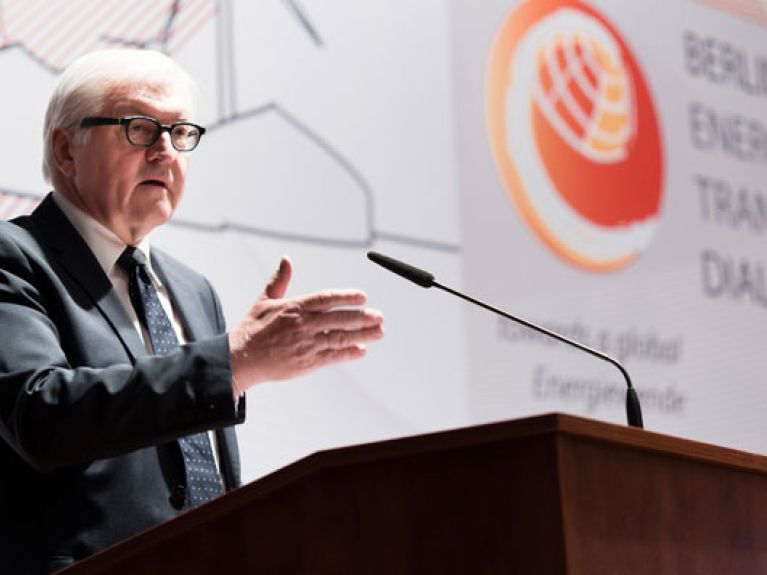 Anyone looking online for information on the small locality of Feldheim, population 150, in the state of Brandenburg, will quickly happen upon the Wikipedia article. "Feldheim is a district of the town of Treuenbrietzen and the first and to date only energy-self-sufficient locality in Germany," it says. The village generates its electricity and heat using wind power and biogas facilities on its doorstep. Cheap electricity rates, high supply security, independence and even a considerable number of jobs are the results of this "mini-energy transition".
Feldheim is the destination for an excursion on the supporting programme of the international conference "Berlin Energy Transition Dialogue". International energy experts are to meet at the Federal Foreign Office to discuss an intelligent, sustainable and cost-efficient global energy transition. Top representatives of the energy sector in Germany are set to present concepts for safe, environmentally friendly and economically successful energy systems. The criteria are energy efficiency and renewability.
"Man-to-the-Moon" project
At the 2015 kick-off event, German Federal Foreign Minister Frank-Walter Steinmeier termed the "energy transition" a "man-to-the-Moon" project in front of over 900 participants from over 60 countries. That which functions in a small village in Brandenburg is of course not directly transferrable to Germany or other countries. Yet ever more experts from all over the globe are taking interest in the German approach: All nuclear power stations are to be shut down by 2022 and by 2050 the share of renewable energies covering electricity consumption is to be increased to 80 percent. This will reduce dependency on fossil fuels, protect the environment and create jobs. Whereas 30,000 people were employed in the nuclear energy sector in Germany in its peak usage period, the renewable energy industries already employ ten times as many.
Berlin Energy Transition Dialogue from 17 to 18 March 2016 at the Federal Foreign Office, Berlin