Commitment to a just world
They fight for plastic-free oceans, sustainable food and women's rights. We introduce you to actively engaged companies and associations.
21.06.2022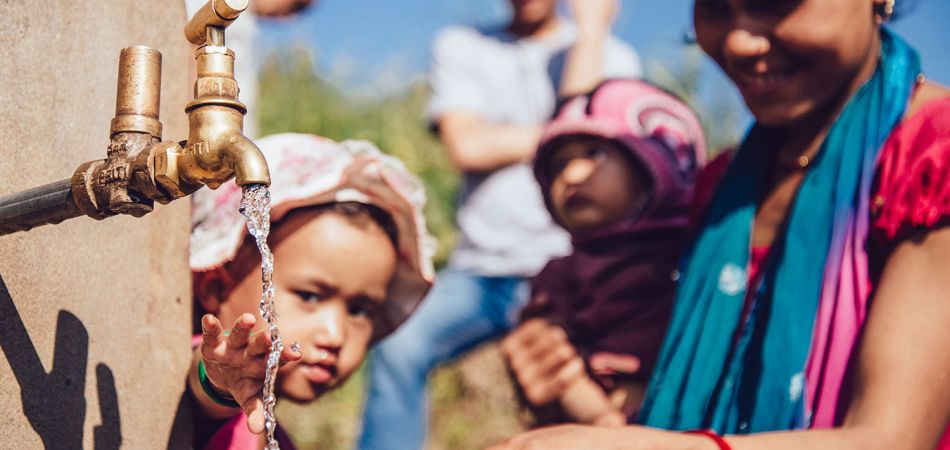 'Progress for a Just World' – this is the goal of Germany's G7 Presidency. It could also be the motto of many young companies, networks and organizations that champion sustainability, climate protection or women's rights. Let us introduce you to some of them:
Viva con Agua
This association is committed to ensuring that all people worldwide have access to clean drinking water. Under the motto 'Water for all – all for water', the non-profit association 'Viva con Agua de Sankt Pauli' promotes projects and campaigns in Germany and partner countries. The core project countries are currently Ethiopia, Uganda and Nepal. In their efforts to get people enthusiastic about their goals and to raise funds, the organizers emphasize the universal languages of music, the arts and sports.
To the website: Viva con Agua
ConstellR
This young company wants to support agriculture worldwide with the help of infra-red monitoring satellites. The satellites collect data on surface temperatures to help reduce the risk of crop damage or even failure. ConstellR's technology is designed, for example, to enable targeted irrigation, and the motto behind it is: 'More Crop per Drop,' i.e. to enhance the crop yield achieved with the water used. In this way, the company, which is supported by the Fraunhofer Institute, aims to help secure a sustainable and equitable food supply.
To the website: ConstellR
the nu company
It all started in a shared kitchen with the desire to create a sustainable chocolate bar. In 2016, the founders of the nu company from Leipzig experimented until they found a novel combination for a snack made from hemp seeds, organic cocoa and coconut blossom sugar. Since then, the green food start-up has been thoroughly stirring up the chocolate market. The young company has supported reforestation projects with every product sold since 2018. The founders' goal is to plant a billion trees by 2030.
To the website: the nu company
Oceanmata
This start-up has a clear vision: 'Plastic-free oceans by 2050'. The company has a dual strategy for achieving this: producing sustainable products and collecting plastic waste. Since 2019, Oceanmata has been marketing primarily biodegradable cell-phone cases, but also T-shirts and bracelets. Not only is no new plastic created, but the company's own clean-up teams collect a kilogram of plastic on the beaches of Bali for every product sold.
To the website: Oceanmata
Wildplastic
This company wants to rid the world of plastic waste. It manufactures garbage bags – 'wildbags' – out of the 'wild plastic' lying around in the environment. The waste is collected mainly in countries that do not have an adequate recycling infrastructure. In addition, the company wants to do more than make a contribution to environmental protection. For the team it's also important to deal as fairly as possible with the collectors and thus improve their working conditions in the long term.
To the website: Wildplastic
Unidas
This Women's Network is committed to the equal participation of women in all areas: politics, society, culture, the media, science and business. Unidas is a central component of the Federal Foreign Office's Latin America and Caribbean Initiative. Its patron is Federal Foreign Minister Annalena Baerbock. The network connects women and women's movements in Latin America, the Caribbean and Germany and strengthens them in their commitment to equality and women's rights.
To the website: Unidas
Femnet
For many years, the women's rights organization Femnet has been working to improve living and working conditions in the global clothing industry, thereby pursuing a clear mission: "Fairness in the supply chain, sustainable consumption, empowering women to lead a self-determined life." To this end, the organization provides direct on-site support, for example in India and Bangladesh. But it also wants to inform consumers about backgrounds and contexts.
To the website: Femnet
Yeşil Çember
One of this organization's goals is to make people of Turkish origin in Germany more aware of environmental issues and sustainability. For example, Yeşil Çember – Turkish for 'Green Circle' – offers bilingual information materials for this purpose and organizes numerous events and workshops. One project developed by the team was climate coaching in a Berlin neighbourhood involving ten households for six months. Another is the Repair Café, where helpers repair a wide variety of appliances, but also educate people about sustainability issues.
To the website: Yeşil Çember
GenderCC
is a global network committed to firmly anchoring the issues of gender justice and human rights in international climate policy. GenderCC came into being in the context of the UN climate negotiations, and its projects aim, among other things, to boost the participation of women in local climate policy. The network also maintains a learning platform to promote gender aspects in climate policy.
To the website: GenderCC