Empowering women in the climate crisis
Experts from Germany explain how gender equality is related to the fight against climate change.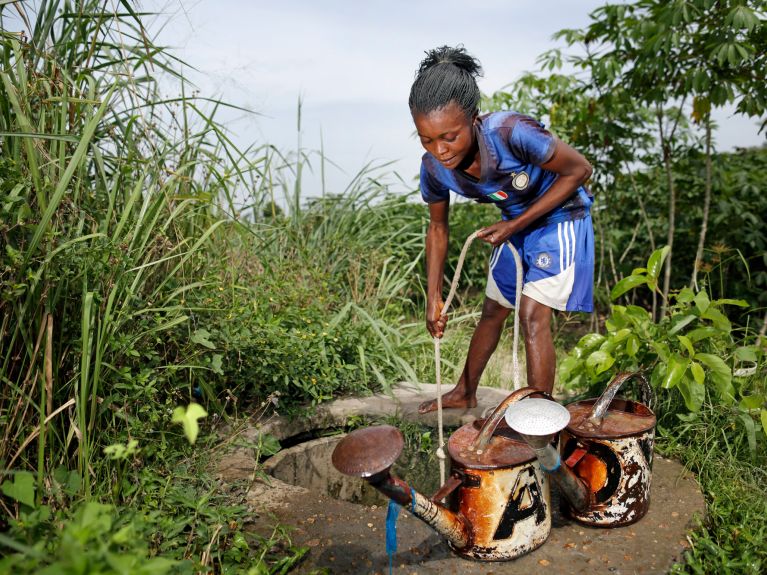 During its G7 presidency, Germany is committed to promoting gender equality and a sustainable future. The two go hand in hand, for women are affected by climate change to a greater extent than men. Experts from Germany explain why the climate crisis is leading to more gender inequality and what needs to be done now.
Elke Ferner, chair of UN Women Deutschland
"Crises exacerbate existing inequalities – including the disadvantages experienced by women and girls. The lives of indigenous women for example depend heavily on natural resources; they are losing their livelihoods as a result of droughts and flooding. The 2004 tsunami in Sri Lanka and Bangladesh cost many more women their lives because they were at home and were warned too late. And many of them couldn't swim. Another example: when firewood and water are in short supply, girls and women have to walk longer distances to fetch them – exposing them to an increased risk of sexual or physical violence and leaving them less time for education, gainful employment or social participation."
Jan Kowalzig, senior policy adviser climate change at Oxfam Deutschland
"Cultural, social or economic marginalisation often makes women especially vulnerable to the climate crisis. Having to provide for their families, women frequently spend more time fetching water or food because of climate change, instead of generating income for themselves. If money is tight, girls first have to help in the fields rather than going to school. Furthermore, women are often excluded from political decisions. And yet it is precisely because of their traditional roles that they know better in many cases how to design effective measures."
Gotelind Alber, board member at GenderCC-Women for Climate Justice
"The appeal for gender equality in climate action is based on the recognition that gender is relevant to all aspects of climate change. Just like any climate policy intervention is checked for cost effectiveness and its environmental consequences, we need as a matter of course to assess the consequences for social justice and gender equality. This must be made a binding requirement and advantage should also be taken of the available gender expertise."
You would like to receive regular information about Germany? Subscribe here: