Model, businesswoman, greenfluencer – and Miss Germany 2022
The Brazilian Domitila Barros has travelled to many countries, and is now living in Berlin. Her goal has remained the same: to make the world a better place.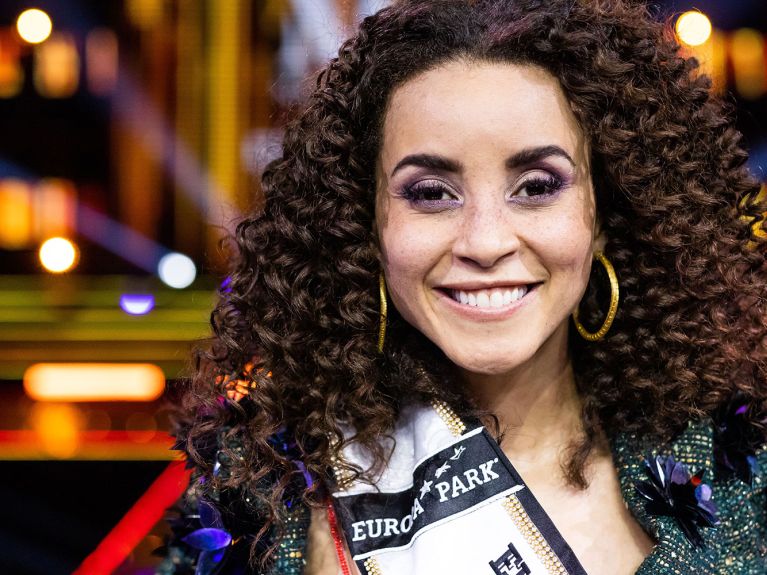 She is Miss Germany 2022: the Brazilian Domitila Barros. A "greenfluencer" who has chosen to make Berlin her home, she has inspired people around the world. She works as an advisor, social entrepreneur, model and actress. The 37-year-old is followed by nearly 180,000 people on Instagram. Barros has a mission: to make the world fairer and more sustainable. To reach as many people as possible, she seeks the big stage – with considerable success. Now she has been crowned Miss Germany in a competition that for some time now has no longer involved women appearing in a bikini; instead, the missions and personal objectives of the candidates are the main focus.
When she was still just 15 years old, Barros was already telling UN representatives about her life. That catapulted her self-confidence "to Mars and back". In 2000, UNESCO had picked the Brazilian for its "Millennium Dreamers" programme. Barros flew to Florida, where she found herself amidst 1,999 young people from all over the world. At the congress, all of them presented their social engagement and their wishes for the 21st century. That was the moment when Barros first experienced just what impact global activism can have.
Avoiding gold mining with toxic chemicals
Five years ago she founded "She is from the jungle" – a fashion and jewellery brand that avoids gold because toxic chemicals are normally used to prospect for gold. Instead, Barros uses a sustainable resource: a Brazilian plant she used to play with as a child: "Capim Dourado", meaning "golden grass".
Single mothers from a favela in the Brazilian city of Recife work for her Berlin-based jewellery and fashion firm. She offers the women fair working conditions, acknowledgement, independence, and in many cases protection against domestic violence, says Barros. She is all too familiar with the often difficult circumstances of her workers' lives. She used to live in the impoverished "linha do tiro" ("firing lines") neighbourhood herself and experienced violence there on a regular basis as a child.
She was able to counter this thanks to the support, solidarity, optimism and creativity she learnt from her parents, who likewise grew up in the favela and still live there to this day. Through education, Roberta and Ademilson Barros had managed to fight their way out of poverty to some extent, and encouraged their daughter to do the same. As Barros recalls, her father would always say: "You will only leave my home once you have your bachelor's degree." And indeed she did later complete a bachelor's in social pedagogy.
She even developed her own teaching method
While still at school, Barros already volunteered on the CAMM street children project that her parents had established in 1984 and still run today. Originally, Roberta Barros had only wanted to cook for and give some private tuition to three street children who had run her doorbell and asked for food. But then more and more needy children kept arriving at the family's home. By the age of 13, Domitila Barros was already helping a lot with CAMM and even developed a fun method of teaching the children to read and write using acting and dance. Her young pupils were delighted. Eventually, UNESCO learnt of the project and in recognition of Barros' voluntary commitment nominated her as a Millennium Dreamer.
In the meantime, Barros has achieved quite a lot more. She travelled around the world as a model and completed a master's degree in social and political studies at Freie Universität Berlin. When looking back, she always remembers people who were by her side and gave her support, courage and advice. Strengthened in this way, she feels at home wherever she is – which just now happens to be in Berlin.