"A major challenge"
Disastrous weather events put a strain on vulnerable countries – Jennifer Morgan to chair negotiations on compensation.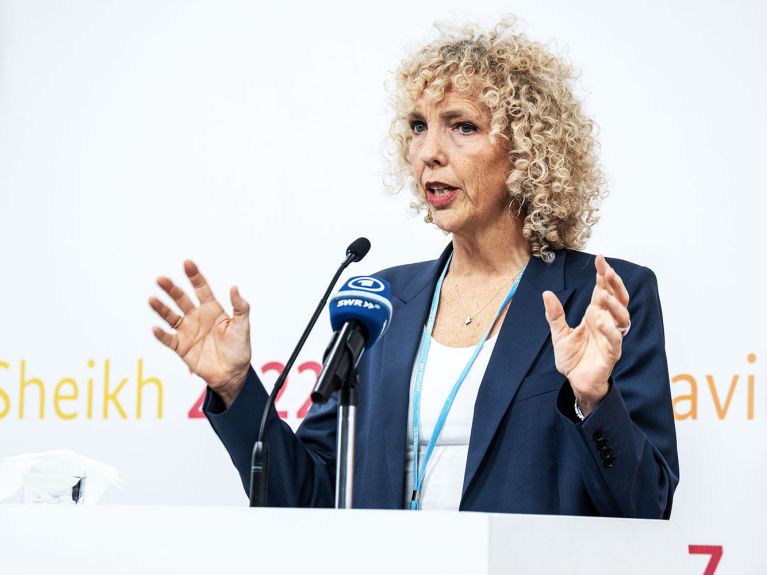 Climate change causes billions of euros' worth of damage. Often the costs have to be borne by countries that have scant resources in the first place. Sabine Minninger, a climate expert at the charity Brot für die Welt (Bread for the World), says that this problem, though it has been known about for decades, has not yet been the subject of serious negotiation at climate conferences. Minninger was a guest at a panel discussion hosted by Germany's Federal Foreign Office ahead of the COP27 UN Climate Change Conference. It explored the extent to which the international community should assume responsibility for the consequences of extreme weather events. "Far too little has happened in this context in recent years. The Western industrialised countries in particular have blocked all initiatives in this direction," says Minninger.
At the climate summit, Germany now wishes to send a clear signal of support for the most vulnerable countries and their needs. Jennifer Morgan, State Secretary and Special Envoy for International Climate Action at the Federal Foreign Office, will be chairing the negotiations on compensation for future weather disasters and is thus directly involved in the process. "A major challenge," as she says herself. "Above all, it is a question of listening carefully and understanding the concerns of the countries." She is optimistic nonetheless. "I sense a great willingness to find a solution together."
Rich countries assume responsibility
The opportunities for achieving this are certainly there. In early October, on the sidelines of the World Bank's conference in Washington, the decision was taken to launch a Global Shield against Climate Risks. This was agreed between the German G7 presidency and the Vulnerable Twenty (V20) group of countries that are especially threatened by climate change.
The target formutalted 2015 is to raise 100 billion US dollars; the industrialised countries had already committed to climate protection and adaptation measures under the Paris Agreement 2015. Funds were to be contributed from 2020, and so far in 2020 83 billion dollars have been drummed up. Germany is supporting the fund with a contribution of 8.5 billion dollars.
Will that be enough? Minninger is sceptical. She estimates that the damage caused by climate change in Africa alone will cost 300 to 600 billion US dollars by 2030, and says that the money made available so far covers only 11 per cent of the adaptation costs. Jürgen Zattler, director of international cooperation at the Federal Ministry for Economic Cooperation and Development (BMZ), agrees: "The Global Shield is just a drop in the ocean. What we need above all is for capital to flow from the private sector into climate-friendly solutions." To this end, he believes it is important to change the framework conditions in many countries – in South Africa, for example, it was not even possible until recently for private investors to invest in renewable energies. Sabine Minninger regards the Global Shield as an important first step, but would like to see a clearer political signal. "We need those who have caused the climate crisis to show more clearly that they accept responsibility."
The most important information about COP27 can be found here.