"Small measures, big effect"
Gerard Krause has developed an IT system for containing epidemics in Africa. His idea is now helping in the fight against corona worldwide.
Isabell Spilker / 14.09.2020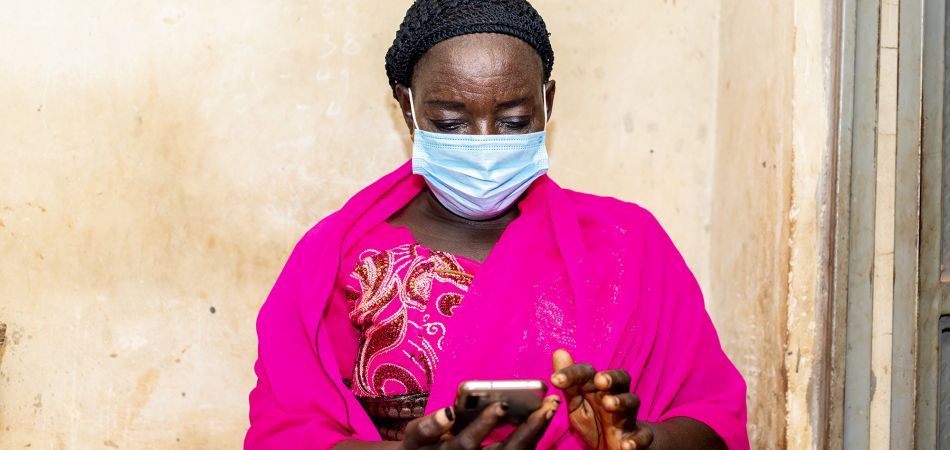 Gérard Krause is professor of epidemiology at the Helmholtz Centre for Infection Research (HZI) in Braunschweig. Some years ago he developed the SORMAS IT system to monitor the spread of viral diseases like Ebola in Africa. Now it is being deployed worldwide in the fight against COVID-19.
Professor Krause, you originally developed the SORMAS IT system to combat Ebola. How can it help contain the corona pandemic?
The COVID-19 pandemic makes very similar demands on healthcare systems as an Ebola outbreak. In recent years we examined and tested the processes associated with such an event – and only had to make slight adjustments for the corona pandemic. SORMAS (Surveillance Outbreak Response Management and Analysis System) was developed for public health authorities because of the very significant role they play in medical and clinical care: the public health authority prevents the further spread of a disease by investigating potential cases. It has to identify contact persons, provide them with healthcare support and make sure they do not become an infection risk. All these processes are interconnected. They also involve very different occupational groups – laboratory clinicians, doctors, health authority employees and many more. SORMAS offers interfaces for everyone involved, providing guidance and support. The system can be adapted to meet the needs of all healthcare systems – and has already been installed in many German public health authorities as SORMAS-ÖGD.
In other words, it's all about collecting data on potential cases?
It's less about collecting data and more about controlling processes – and making sure important information reaches the periphery from the central collection point so that the processes there can be better managed. That differentiates SORMAS from many other digital systems. At the same time, a great deal of highly standardised data is also generated and evaluated.
As an epidemiologist you must be closely involved in what's happening around the world at the moment. How much has your daily routine changed in these corona times?
In a nutshell, I have very, very much more work than usual. We're involved in supporting numerous studies that would normally be scheduled for three to five years, but some now have to be completed in two months. On one hand, that's good, because the projects move ahead fast and are also supported by the political decision-makers. On the other hand, however, the pandemic is making great demands on the whole team. It's an enormous organisational effort.
You already adapted SORMAS for COVID-19 before the WHO declared COVID-19 a pandemic. Did you foresee what would happen?
It was much earlier than that. It soon became evident that the disease would spread beyond the borders of China. SORMAS is structured in a modular way so that it was easily possible to adapt it in the countries where it was already in use – Ghana and Nigeria. As a result, the app already had a COVID-19 function even before the first corona cases occurred there.
Are you still involved in projects in Africa?
Of course we are in the countries where SORMAS has already been installed. SORMAS has already been used very successfully for other epidemics in Nigeria and Ghana. Now it's the turn of Burkina Faso and Ivory Coast. There we're providing support remotely.
As a researcher, are you currently allowed to travel?
No, the travel restrictions also apply to us. We have transferred our measures, controls and communication completely online. Our partners in Ghana and Nigeria know their job well and that was no problem.
How do you view the development of the pandemic in Africa?
The economic impacts are huge – above all, as a result of government measures such as restrictions on contacts and movement. This is having a dramatic effect on people's supply situation and survival. The indirect consequences of the pandemic are much more dramatic there than they are, for example, in Europe. Nevertheless, the mortality rate appears to be not much higher than it is in Europe; in part, it is even lower.
What we do in Africa has a direct impact. The potential for disease prevention there is great.
Gérard Krause, professor of epidemiology at the Helmholtz Centre for Infection Research
You have experienced several epidemics in Africa and successfully helped to contain them. What do you find especially appealing about working in Africa?
Independently of the pandemic, demand in Africa is so great that you have much more leverage. What we do in Africa has a direct impact. The potential for disease prevention there is great. That excites me and motivates me. At the same time, the work is very complex and you need high frustration tolerance. Everything is much less predictable; it is riskier and more arduous. Many projects progress rather differently from what you had actually planned. In Africa the challenges are so multifaceted that you can achieve a big effect with small measures.
What have you discovered about the world during the pandemic?
We do not yet understand many of the differences between nations – for example, why do some countries have higher mortality rates than others? I believe we have a very good and largely fair healthcare system in Germany when you compare it with other countries. In many countries whether or not you are admitted to an intensive care unit depends on your income. I'm afraid the pandemic will make these differences clear.