"Education is everything"
Only one percent of refugees study – unlike 37 percent of all young people worldwide. A conference in Berlin focussed on how to change this state of affairs.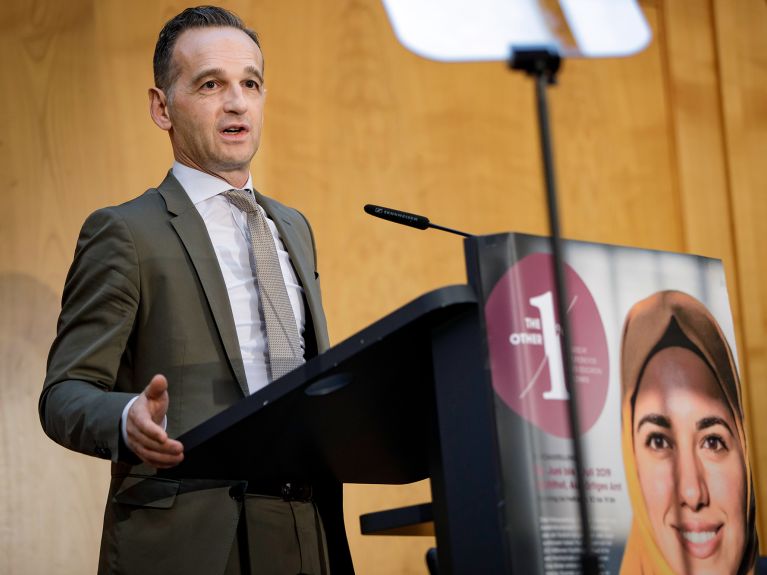 "Education is even more important to them than food", reported Filippo Grandi, UN High Commissioner for Refugees, on the conversations he has had with refugees worldwide over the course of more than three decades. In Berlin, two days before World Refugee Day 2019, German Federal Foreign Minister Heiko Maas and Grandi opened the conference "The Other 1 Percent – Refugee Students at Higher Education Institutions Worldwide", organised by the German Federal Foreign Office, the German Academic Exchange Service (DAAD) and the UN Refugee Agency (UNHCR). University education in the first receiving countries is not only an opportunity for individuals to be perceived as human beings, said German Federal Foreign Minister Heiko Maas, for "it offers hope for entire families of refugees and communities. Refugees who study are role models, enrichen their host country, and can one day possibly help rebuild their home country".
Click here for the speech by Federal Foreign Minister Heiko Maas
Successful programmes for young refugees
Thanks to a scholarship from the Albert Einstein German Academic Refugee Initiative (DAFI), for example, Foni Joyce Vuni from South Sudan was able to study at Kenyatta University in Kenya. Today, she proudly holds a Bachelor's degree in Mass Communication, is herself training refugees and is one of the chairpersons of the UNHCR's Global Youth Advisory Council (GYAC) and co-founder of the YEMI initiative. She helps young people fulfil their potential. "With education you explore your potential", the 27-year-old says at a panel discussion in Berlin and emphasises the inestimable value of study support for young refugees. With no positive sense of your own value you remain exposed to the manipulation of the warmongers. "Once you understand what it is that you want, once you are able to appreciate cultural diversity, then it is easy for you to become a peacekeeper instead of becoming a peace breaker." Foni now not only wants to do a Master's, but also continue to actively support refugees and one day champion peace and development back in her home country of South Sudan. "Education is the basis of everything. We need to avail ourselves of this opportunity."
Muhammad Shikhani is also among the one percent of those who managed to enrol at a uni after fleeing their home country. As a young engineer with his first degree from the University of Damascus, he fled the war in Syria and escaped to Lebanon, where he applied to take part in the DAAD's "Leadership for Syria" programme. As one of 224 scholarship holders on the programme he arrived in Germany and completed a Master's in Water Resources Engineering at Karlsruhe Institute of Technology (KIT). Since February 2018 Shikhani has been studying for a Ph.D. at the UFZ Centre for Environmental Research in Magdeburg, where he is researching the impact of climate change on lakes and water reservoirs. "I would never have thought that in 2019 I would be working at a research centre and be on a project that takes me to Africa, where it also confronts me with border conflicts between Rwanda and Congo," Shikhani comments. Not least, he says, thanks to the education he has been able to enjoy he now has the opportunity to turn the experience, his own experience of fleeing, into something fruitful for other people, too.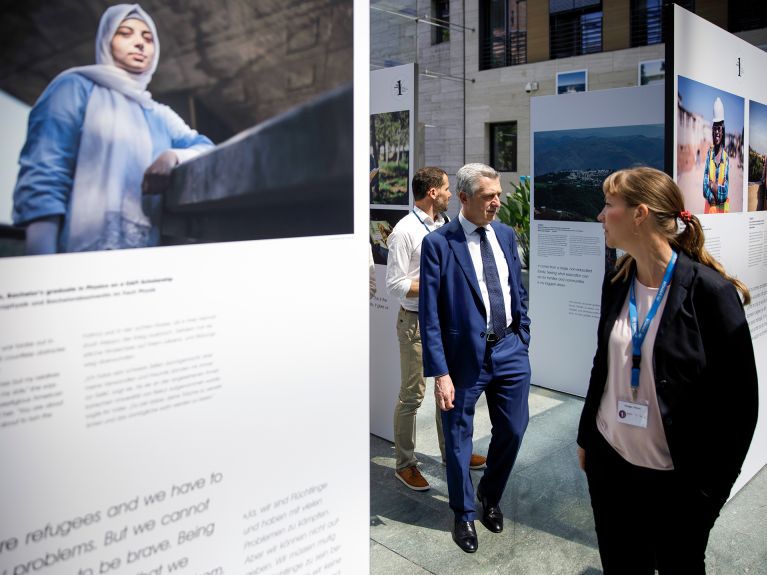 Creating better access to education
Vuni and Shikhani are not the only ones who tirelessly report on how their scholarships were invaluable in nurturing hope and a zest for life. A total of 22 students and alumni from all over the world spoke at the conference about their experiences – thanks to the DAFI and Connected Learning programmes, as well as HOPES and Leadership for Syria. Given their success stories and impressive motivation to pass the gift of education on to others, the world community can take heart, Filippo Grandi suggested. "We should not resign ourselves to the narrative that it is impossible to solve this huge global problem of forced displacement," he said.
The UN High Commissioner for Refugees insists that by 2030, 15 percent of refugees must have access to higher education. "We really owe it to those parents, families, communities, to those young people who are so eager to have an education. We need to restore in them a sense that life is great, that life has opportunities."
Click here for more about the international conference
You would like to receive regular information about Germany? Subscribe here: