Overcoming terrestrial problems in outer space
Europe's role in outer space: ESA Director General Jan Wörner talks about dangerous solar storms and how our everyday life depends on aerospace.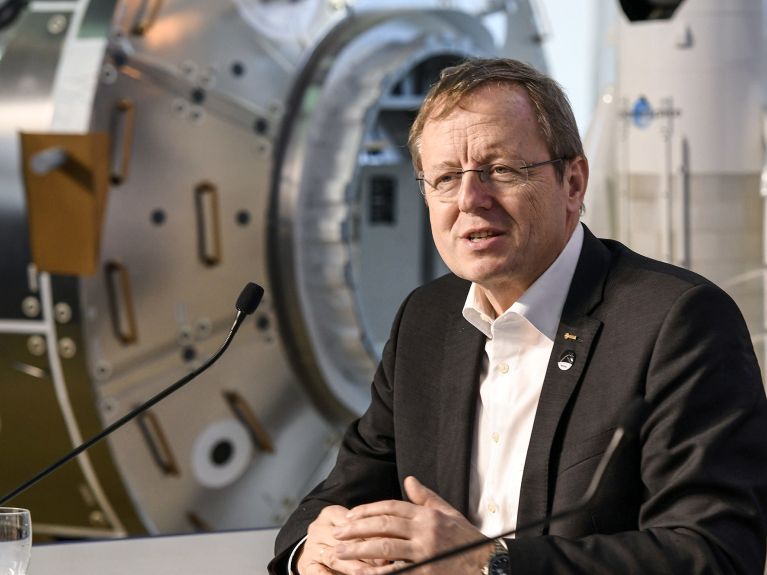 Professor Wörner, what is the role of the European Space Agency, or ESA, in international aerospace?
In terms of budget, Europe ranks second in the world after the USA. ESA is internationally well-connected. We have numerous projects that extend beyond Europe and operate together with worldwide partners. I think this is very important, especially in view of the political differences on Earth. We can overcome these terrestrial problems with the help of aerospace.
How does Germany aim to participate in ESA in the future?
Germany was always very strong in space travel and Earth observation – the country is world leader in this respect. I expect that Germany will be strongly involved in both of these areas in the future as well.
Which projects is ESA working on at the moment?
We have developed a security programme for space. This focuses on three main aspects: the collection of space debris, the prevention of asteroids colliding with the Earth in an eventual emergency, and an early warning system that can predict solar storms. Solar storms are a regular occurrence. We can observe them on Earth as northern lights. But if these storms become unusually strong, they could well cut power supplies. In our digital society a solar storm of this kind would be catastrophic if the Earth were unprepared. That's why it's so crucial to develop an early warning system.
How important is aerospace for Europe?
Aerospace has become part of people's everyday lives. Telecommunications, navigation, bank transfers: they all operate via satellites. And part of the organization of disaster relief is based on observations made from outer space. That's why strong aerospace technology is very important for our modern society.
In Germany there are ideas about building a spaceport. Do you think that's necessary?
We need unimpeded European access to space. In addition to the development of bigger rockets, there are increasing numbers of small rockets. Germany is also very active in this area. For these rockets you don't need a large spaceport like the one we have in French Guiana. In future I expect mainly commercial approaches in the aerospace industry. So I can understand why the industry in Germany would like its own form of access to outer space.
What are the biggest challenges facing ESA?
I reckon the biggest challenge is to transform today's ESA into an ESA of the future. Under the term New Space, many people think of a move away from major agencies towards smaller enterprises. When these enterprises are asked what New Space means to them, they say: cost reduction, commercialization, innovation – for example the implementation of artificial intelligence  – agility and flexibility. An agency has to be able to deliver this. I would like to transform ESA in this sense, so that we can take on new roles in the future. No longer simply the classic research and development agency, but also a partner or client of the industry.
Jan Wörner was born in 1954 in Kassel. He is a civil engineer and taught for many years as a professor at the Technical University TU Darmstadt. From 2007 until 2015 he headed the German Aerospace Center (DLR) and became Director General of the European Space Agency in 2015.
You would like to receive regular information about Germany? Subscribe here: