Cross-border commitment
How Germany is committed to global health.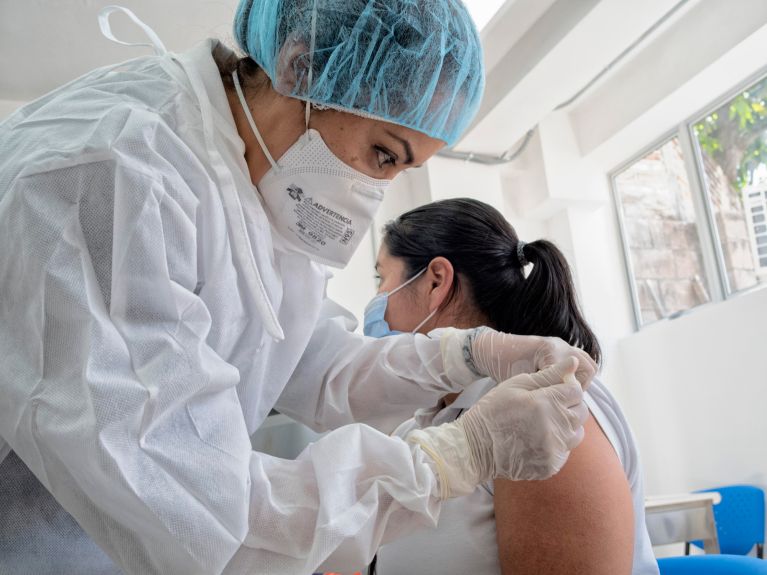 They may not appear to have much in common at first glance: high blood pressure, dementia, diabetes mellitus, cancer, mental disorders and viral infections such as SARS-CoV-2. What links them all, however, is the fact that they are widespread diseases that affect millions of people all over the world every year. For a number of decades now, three phenomena have been accelerating the spread of such diseases: globalisation, climate change and migration all have an impact on global health. This is why a new global health approach aims to consider the issue on an international level and encourage joint activities.
Against this backdrop, Germany is committed to improving the health situation of people worldwide and promoting healthcare equality. One central role in this is played by research – across disciplines and national borders. In the years 2016 to 2020, Germany's Federal Ministry of Education and Research (BMBF) alone made almost 510 million euros available for global health research.
Containing diseases, strengthening healthcare systems
Universities, research institutions and companies across Germany are addressing this issue. In their activities, they focus for example on the human-animal-environment interface, vaccines, antimicrobial resistance, food security or tropical diseases. In the Global Health Protection Programme, for instance, institutions such as the Robert Koch Institute, the Bernhard Nocht Institute for Tropical Medicine and the Paul-Ehrlich-Institut support partner countries in containing disease outbreaks or strengthening their healthcare systems.
Two alliances bring global health actors together in Germany: the Global Health Hub Germany (GHHG) is a network for all researchers interested in the subject. It makes the various initiatives visible and fosters international and interdisciplinary exchange.  Furthermore, projects spanning different locations and subject areas are pursued via the German Alliance for Global Health Research (GLOHRA), a platform used by more than 600 scientists.
You would like to receive regular information about Germany? Subscribe here: