#WirvsVirus: hacking to fight the crisis
The Federal Government's 'Hackathon' has yielded lots of suggestions for solving problems to do with the Corona crisis. This was Germany's biggest digital competition of ideas to date.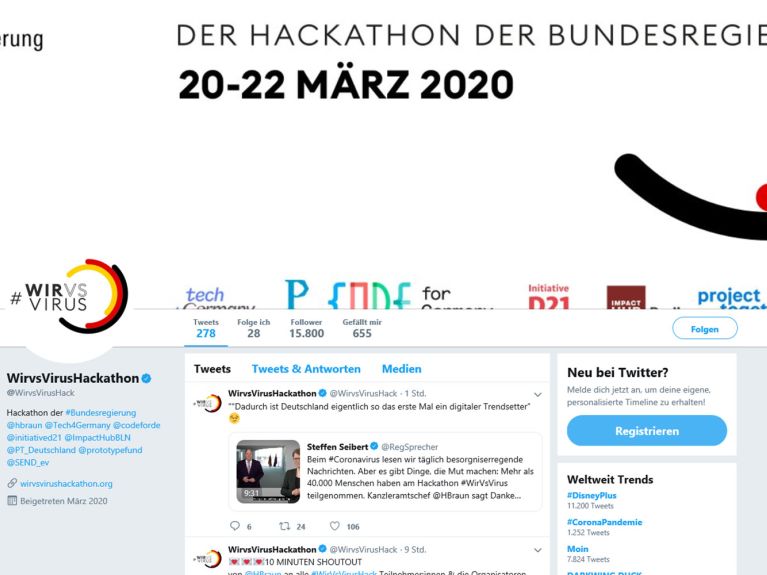 "From now on, we will have to find different answers to the question 'How digital is Germany?'", tweets Toni Menzel on Monday morning, 23 March 2020. He and over 40,000 other participants have just completed the 'biggest hackathon in Germany's history', as Chancellery Minister Helge Braun emphasized. 'Hackathon' is an artificial word combining 'hacking' and 'marathon'. It describes an event at which different teams work on concrete digital solutions over a short period of time. The Federal Government had invited people to take part in a virtual 'We vs Virus' (WirvsVirus) hackathon – and the response was overwhelming.
Of the more than 40,000 participants, 27,000 got actively involved last weekend and developed solutions to problems related to the Corona crisis. "During the @WirvsVirusHack, we developed a project in which we can digitally network with students and school kids free of charge to provide learning support for school and take some of the pressure off parents," it says under the #WirvsVirus hashtag. Or "We made the #Pandoa app during the #WirvsVirus Hack staged by the #Federal government. Pandoa lets you know if you've had contact with an infected person."
Others can hardly wait to see what happens next: "After the hack is before the hack. Where can we go from here? On Wednesday there will be the first team call after the Hackathon. And we're already in contact with other #WirvsVirus teams to exploit synergies. Stay tuned!" twitters print2protect, a platform used by industry to share capacity and support system-relevant people and companies. In the course of the week a jury will decide which projects will receive support. There will also be a public vote. But it's already clear today that everybody has won: "This was a great initiative by German Govt, can we plan this for India?" tweeted Nikhil Shirodkar.
+++
Everything you need to know about learning German online or studying for a degree in Germany online:
https://www.deutschland.de/en/online-learning-in-germany