Voluntary Scientific Year
During a Voluntary Scientific Year, a new variant of Germany's existing volunteer programmes, school leavers have the chance to acquire experience in research before starting university.
08.08.2014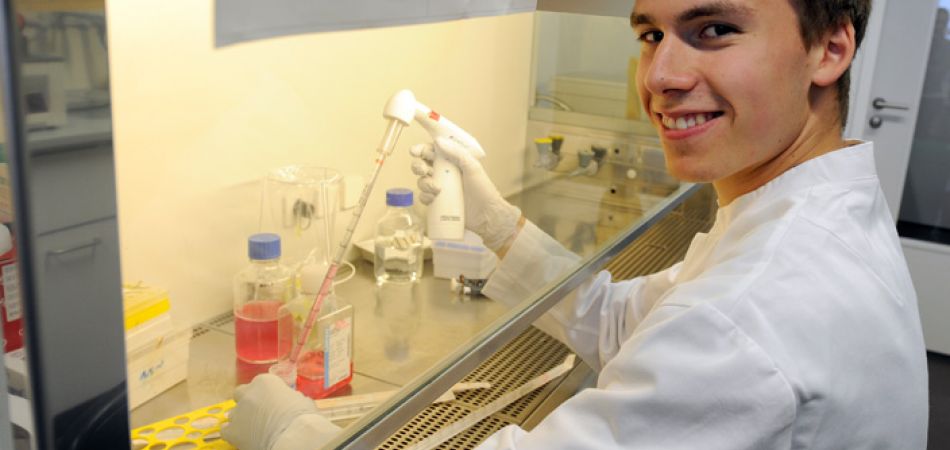 A Voluntary Scientific Year in Germany, a new alternative to the existing Voluntary Social Year and Voluntary Ecological Year programmes, offers young people practice rather than theory as well as the opportunity to work with researchers and access areas that would otherwise never be open to them – not to mention a whole host of other fascinating insights. The aim is to get young people excited about science. In 2011, the first Voluntary Scientific Year pilot project in Germany was launched by Hannover Medical School (MHH) and a number of partner institutes. They have meanwhile supervised close to 60 school leavers as they spend a year working in a research project in the fields of biomedicine, chemistry, physics or engineering science. The young students experience science up close and personal – what exactly do researchers do, how do they work and how is their work organized? The range of topics addressed includes vaccines, stem cells, gene therapy, quantum physics and laser research.
Access to areas and subjects that would otherwise remain closed
After taking his Abitur (Germany's university entrance qualification), Tim Holler embarked on a Voluntary Scientific Year and spent twelve months in a laboratory conducting research into a hereditary heart disease. Holler was glad that he decided to undertake a Voluntary Scientific Year rather than embarking on a university degree straight after all the stress of taking his school-leaving exams. Not many young people under twenty can claim to have collaborated in such fields in an international environment. Even before beginning their studies, Holler and his fellow volunteers acquire valuable insights into what may turn out to be their future profession. What is more, they do a stint of voluntary work, which benefits science, society and themselves.
Budding medical students also use a year of voluntary work as a meaningful way of bridging the time they have to spend waiting for a place a university. The young volunteers work 38.5 hours per week and are paid an allowance of 400 euros a month. The MHH is very pleased with the way the Voluntary Scientific Year has gone so far, with more than 200 young people applying each year for one of the coveted 60 or so places. Tim Holler also took advantage of his volunteer year to think about the direction he wants his professional and personal life to take now that he has left school. One thing he does know is that he wants to pursue a future career in science.