"A new generation of committed Europeans"
Johannes Trommer is a 35-year-old mentor from Jena who helps international Erasmus students in Germany. He says: "It's best to experience for yourself that everyone benefits from an open Europe."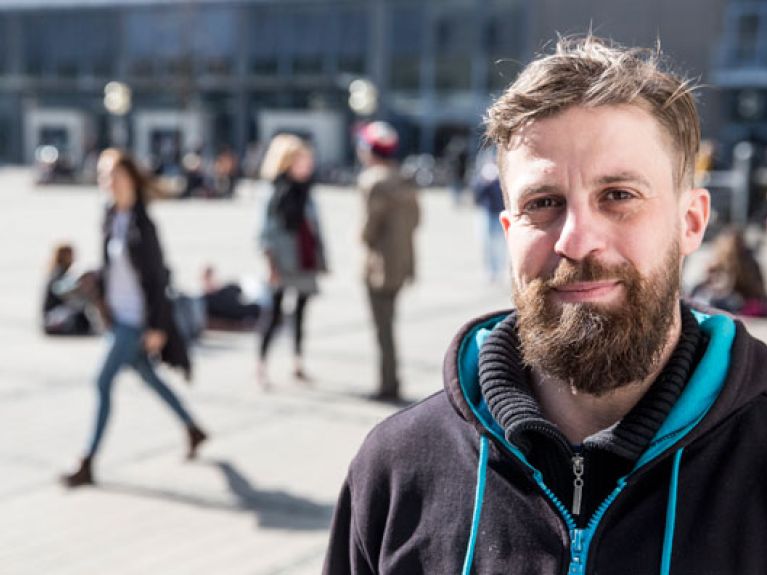 "Very early on in my course at the Friedrich Schiller University Jena I got to know Erasmus students form lots of different countries. It was my first contact with other Europeans. Afterwards it became clear to me that I wanted to go abroad myself. When you study politics, every day you examine other countries, look at similarities and differences as well as mutual relations. You need to know what you are talking about. Experience of life in other countries is essential. When you are confronted with different perspectives on European processes, it is easier then to make a realistic appraisal of these views.
It is very important to me today to promote European exchange. We were able to see in the UK Brexit referendum that many young people voted for Europe. They ought to be well trained for the common European peace project. Young people in particular must discover the advantages of the European Union themselves – instead of letting someone else tell them anything. It's best to experience for yourself that 'the others' are not dangerous, but that everyone benefits from an open Europe.
Encouraging more people to go abroad
I completed my Bachelor dissertation on the subject of whether or not experience abroad changes attitudes to Europe. Interestingly, the result shows, for example, that people who go abroad with the Erasmus+ programme already have pro-European views. If we therefore want to convince more people to go abroad, we have to reach those who have perhaps not yet heard of such opportunities. We have to give them a chance – and the sooner, the better.
Since 2009, I have been actively involved in the Erasmus Student Network (ESN) at the local and national level, supporting Erasmus students in Germany. Since Erasmus was expanded to form the Erasmus+ programme, it is no longer only students who come, but also apprentices and staff from higher education institutions. We are also looking after these target groups and international students from non-EU countries. 
The European student organisation ESN now exists in 40 countries and over 500 cities. We do not only help international students, but actively support more people going abroad. We want to advance the integration of students with disabilities and have developed a programme called SocialErasmus that aims to make it easier for students to develop cultural and social contacts with local people in their host countries. If time allows, I would like to continue this commitment during my working life. I hope that a new generation of committed Europeans comes forward."
Johannes Trommer is a committed European. In 2008/2009, while he was a political science student in Jena, he went to study at the University of Padua in Italy with an Erasmus scholarship. In 2012, during a five-month international internship at Campus Europae, a European networking project in Luxembourg, he organised the Ride for your Rights bicycle tour. Supporters and participants cycled from Luxembourg to Brussels to promote student exchange and the Campus Europae project. Trommer himself was supported then by the European Leonardo da Vinci mobility programme, which has now been replaced by the new Erasmus+ programme. For some years, the 35-year-old has been active in the Erasmus Student Network (ESN) as a mentor for Erasmus students in Germany.
Transcript: Bettina Mittelstraß