Recognizing the next pandemic
A new WHO Hub in Berlin is designed to help identify and combat global threats at an early stage. The first programmes are already up and running.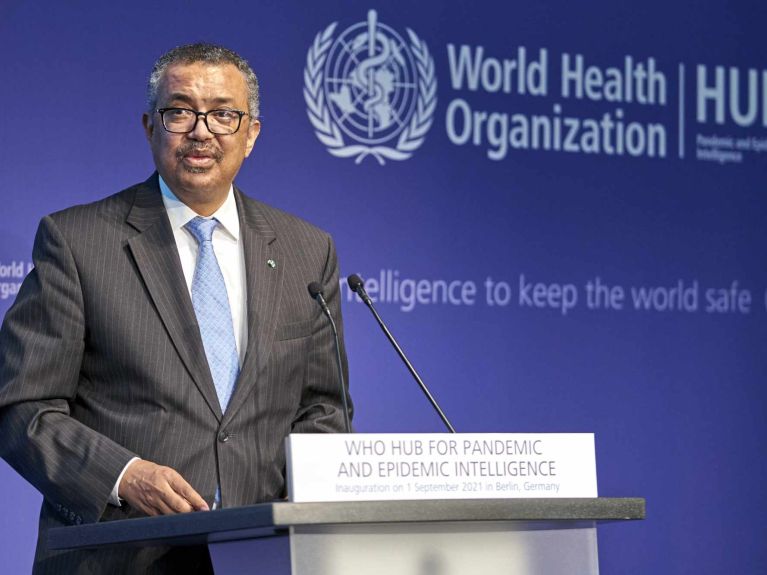 The coronavirus pandemic gripped the entire world, and it is still one of the major global challenges. But SARS-CoV-2 will not have been the last infectious disease to spread worldwide. In order to be better prepared in the future, the World Health Organization (WHO) has set up a headquarters in Berlin to detect the next global threat and combat it at an early stage. Launched in late 2021, the Global Hub for Pandemic and Epidemic Intelligence is already working hard to coordinate and improve early detection and response to global epidemics.
For example, with its initiative 'Epidemic Intelligence from Open Sources' (EIOS), the Hub is attempting to establish a system to automatically collect and analyse health data and scientific publications in a timely manner. In the meantime, the programme can already search through several thousand articles per hour and automatically assign and mark them by topic. In this way, symptoms, therapeutic measures, and even the effects of public health measures can be quickly assigned and assessed. The WHO and health institutions worldwide have real-time access to the tool and its findings via the internet. And if the programme identifies an emerging threat through its analysis of articles or a combination of articles, it immediately sounds the alarm.
The WHO Hub, which has two strong local partners in Berlin – Charité Universitätsmedizin and the Robert Koch Institute(RKI) – is also setting up another project to link institutions worldwide and promote exchanges among healthcare institutions: the Pandemic and Epidemic Intelligence Collaboratory. The aim is to use digital tools and interfaces to make it easier for everyone involved to jointly analyse and process data quickly and effectively, to contribute ideas, and to define and achieve goals.
You would like to receive regular information about Germany? Subscribe here: