"Increased responsibility"
Axel Pries, President of the World Health Summit, talks about Germany's commitment to global health.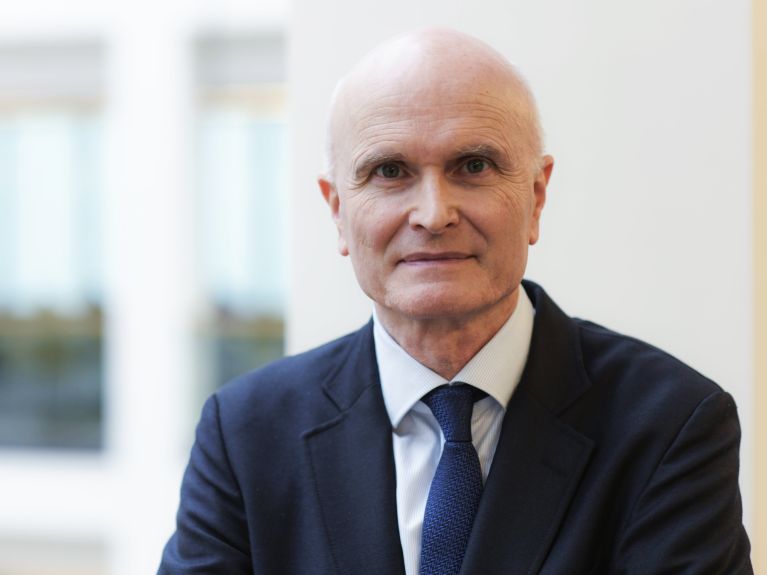 Once a year, key international players from the fields of science, politics, industry and civil society assemble at the World Health Summit (WHS) to exchange views on many different aspects of global health. WHS President Axel Radlach Pries talks about the topics to be discussed at the conference, which is scheduled for 16-18 October 2022 in Berlin.
Professor Pries, to what extent is Berlin a particularly suitable location for the World Health Summit?
The German commitment to global health is a key component of a policy that takes Germany's increased responsibility seriously. In October 2020, the Federal Government developed a strategy to promote global health and increased its contributions supporting the World Health Organization (WHO). In 2020 and 2021, Germany was its largest donor, making it possible for the new WHO Hub for Pandemic and Epidemic Intelligence to be located in Berlin. However, Berlin's increasing role in global health is not based on financial support alone. Berlin is a vibrant international research centre and home to the Charité, the largest university hospital in Europe. Furthermore, the World Health Summit, one of the world's most important conferences on global health, is held every year in Berlin.
Why are digitalization and climate change – and how they relate to health – two of the key topics?
Health must be considered in all sectors and especially in policy decisions. This becomes particularly evident when we look at the effects of the climate crisis and humanity's overuse of the planet. The destruction of animal habitats, which is increasing as a result of climate change, encourages the spread of many of the infectious diseases that can be transmitted between humans and animals. In addition, global warming is causing the migration of infection-transmitting animals to colder areas. Overall, this increases the need to be prepared for new types of pandemics. In turn, digitalization and the global exchange of information and potential solutions are key aspects for developing rapid and effective responses to health threats.
What are the outstanding international collaborations involving German participation in the field of health research?
There are many very successful projects, for example the European and Developing Countries Clinical Trials Partnership (EDCTP). This initiative contributes in particular to tackling the three major poverty-related diseases HIV/AIDS, malaria and tuberculosis. Also relevant is an initiative that Germany supports as the largest single donor: the Access to Covid-19 Tools (ACT) Accelerator is working to end the coronavirus pandemic as a global emergency by 2022, and to address global disparities in the response to Covid-19.
You would like to receive regular information about Germany? Subscribe here: