Research for global health
For two years now, the GLOHRA research alliance has been dedicated to improving medicine and healthcare worldwide.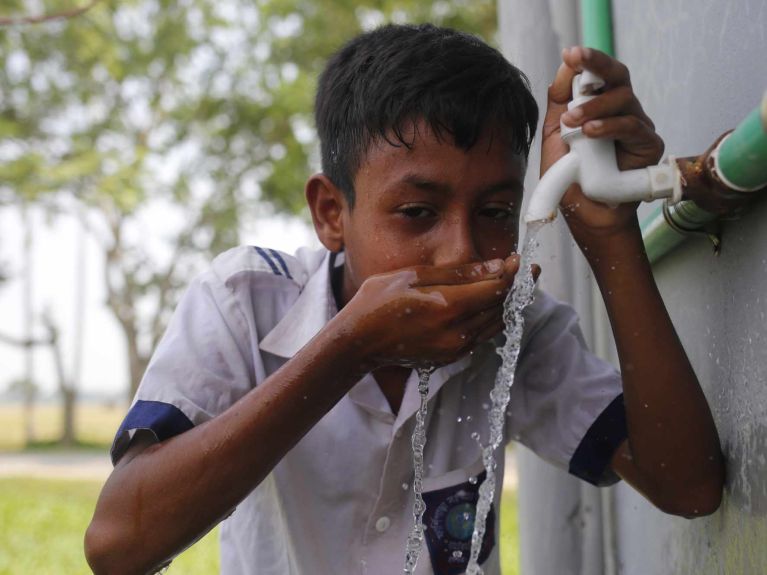 The challenges that the world faces in medicine and healthcare are complex and numerous – as are the research projects in Germany that are addressing these challenges. In 2020, the efforts of universities and research institutions in this field were again significantly strengthened and bundled when the German Alliance for Global Health Research (GLOHRA) was formed. The Alliance is funded by the German Federal Ministry of Education and Research (BMBF) and the German Federal Ministry for Economic Cooperation and Development (BMZ).
New methods of water treatment
Under the umbrella of GLOHRA, researchers from Heidelberg and Potsdam, among others, are developing a water purification system for South Asian countries such as Bangladesh, where contaminated water is still one of the biggest health threats and sources of disease. The experts are also keeping an eye on the specific local situation: the water-treatment methods they develop need to be both inexpensive and effective so that they really lead to improvements on a large scale.
In another project, German and Indonesian universities and clinics are working together to establish screening systems for cervical cancer in Indonesia. This form of screening is already standard in Germany, so there is extensive experience to draw on here.
Treating cardiovascular diseases by cell phone
A digital project in Uganda involving Charité Universitätsmedizin and Heidelberg University Hospital, among others, aims to advance the diagnosis and treatment of chronic illnesses in innovative ways. The focus is particularly on cardiovascular diseases, which are still the number one cause of death worldwide. In order to detect symptoms of cardiovascular disease earlier and treat them more efficiently, the project makes use of the fact that people in Uganda use their cell phones very intensively. As part of the programme, users are spontaneously asked questions at irregular intervals, e.g. to detect symptoms of arteriosclerosis. In addition, people are asked to have their blood pressure measured and the figures recorded at certain, longer intervals. In this way, a cardiovascular risk profile emerges over time – almost as a by-product. The programme is currently being tested and refined in a rural community in Uganda. It has the potential to reach millions of people.
You would like to receive regular information about Germany? Subscribe here: