Studying for the future
Energy and security issues, health and environmental protection: five degree programmes in Germany devoted to pressing issues.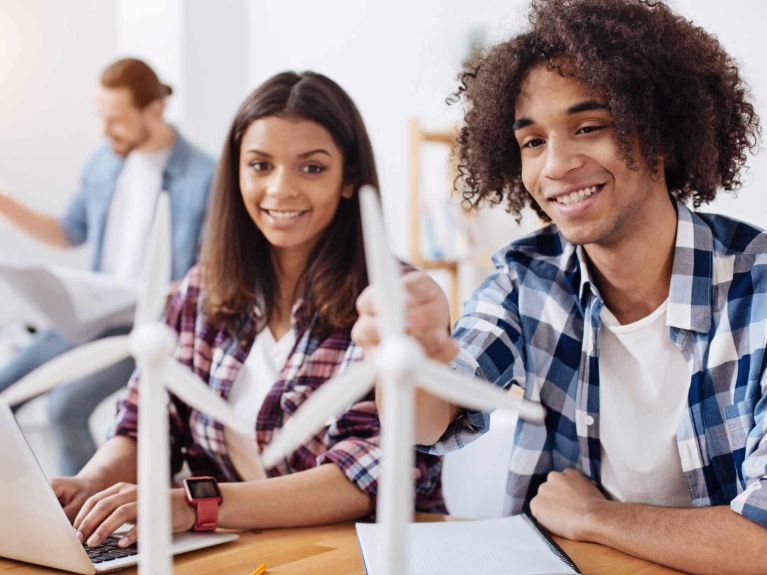 Sustainable Development: bachelor's programme at Bochum University of Applied Sciences
Sustainability has many aspects, and the bachelor's programme Sustainable Development at Bochum University of Applied Sciences is just as diverse. It prepares future sustainability experts for their work in business, science, politics or non-profit organisations. The topics of the interdisciplinary degree programme with perspectives in natural science, economics, engineering and social science range from strengthening developing countries and understanding climate change to transforming companies and cities.
Renewable Energy Systems: master's degree at Ingolstadt University of Applied Sciences
How do we rebuild our energy supply so that our planet has a future? The master's programme Renewable Energy System" at Ingolstadt University of Applied Sciences addresses this question. Students learn how to network technologies for energy supply and to design their planning, financing and operation holistically.
Natural Hazards and Risks in Structural Engineering: master's degree at Bauhaus University Weimar
Even though mankind is striving for sustainable development and an ecological energy supply, natural disasters are on the increase and pose special challenges, not least for structural engineers. The Weimar programme Natural Hazards and Risks in Structural Engineering is about not only technical responses to storms, floods and earthquakes, but also probability models and a specifically promoted exchange of international experience.
"Epidemiology": master's degree at the University of Munich (LMU)
The Covid-19 pandemic has shown how important it is to respond quickly to new health risks. The Munich master's programme Epidemiology provides a better understanding of the dynamics of diseases and prepares its students for different professional fields in research, business, politics and administration.
Peace and Conflict Studies: master's degree at the University Magdeburg
In view of the war in Ukraine, many questions about the future have faded into the background. How can politics prevent wars and conflicts? How can peaceful forms of politics be restored after escalation? The Magdeburg master's programme Peace and Conflict Studies addresses these questions very comprehensively: in addition to courses in the core areas of political science and sociology, it also offers seminars in cultural studies, philosophy, psychology and history.
You would like to receive regular information about Germany? Subscribe here: