Studying for food
Wars and climate change threaten food security. Find out here what degree programmes address this issue.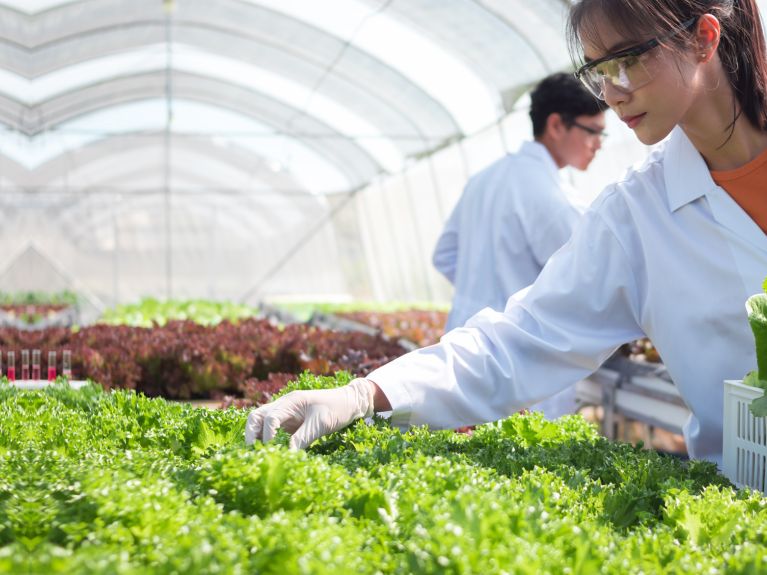 Not all people have access to sufficient, healthy and nutritious food. Worldwide, however, enough food is available. Hunger is therefore primarily a distribution problem. In order to prevent food crises in future, we need experts in this field. Here you can find courses of study that will make you into one.
Global Food, Nutrition and Health in Bayreuth
In spite of sufficient quantities of food, we have still failed to eliminate malnutrition and nutrient deficiencies worldwide. The master's programme "Global Food, Nutrition and Health" at the University of Bayreuth examines the connection between the production and provision of sufficient and safe food worldwide ("Food"), the social and cultural aspects of nutrition ("Nutrition"), and its impact on health in a global context ("Health"). The programme is taught in English.
To the degree programme Global Food, Nutrition and Health
Agricultural Sciences in Hohenheim
Owing to the intensification of agriculture, one farmer can now feed 137 people, compared with 17 in 1960. But this economisation also brings problems with it. Many soils are damaged by one-sided cultivation and polluted by fertilisers and pesticides. That is why sustainable methods are becoming increasingly important.
The bachelor's degree programme in Agricultural Sciences at the University of Hohenheim, the largest agricultural university in Germany, prepares students to master the challenges of modern agriculture. The university also offers numerous other degree programmes in English.
To the Agricultural Science degree programme
Ecotrophology in Kiel
How is nutrition connected to psycho-sociological and economic factors? And what role do poverty reduction and sustainable development play in food security? These are the questions that the degree programme in Ecotrophology investigates. Students at the University of Kiel can choose between two specialisations in the bachelor's degree programme: Nutrition and Food Sciences or Nutrition and Health Economics.
To the Ecotrophology programme
You would like to receive regular information about Germany? Subscribe here: