Committed to fighting hunger
The war in Ukraine and the resulting food crisis are having a serious impact on many people in Africa. What Germany is doing to combat hunger.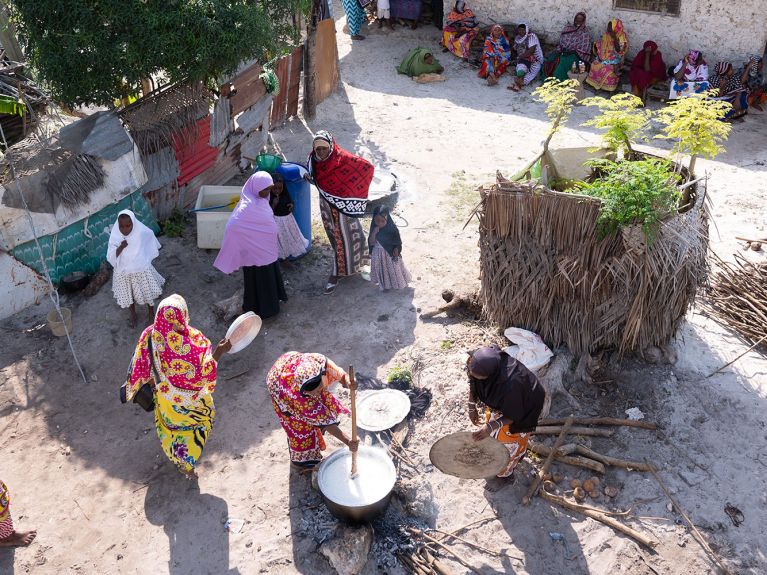 Though the outcome of Putin's war in Ukraine will probably not be clear for a long time yet, its countless victims are already known. This war of aggression is having terrible consequences not only for Ukraine's civilian population, which is being terrorised by Russian bombing and execution orders, but also for Russian families whose sons are being killed in the neighbouring country – and indeed for millions of people all over the world. Coming hard on the heels of the devastating effects of the coronavirus pandemic, the invasion of Ukraine has plunged the global economy into an even deeper crisis: fuel prices are skyrocketing, the prices of basic foods such as cooking oil and wheat have doubled, and fertiliser – especially that produced in Russia – is in increasingly short supply.
Russia and Ukraine are dubbed "Europe's breadbaskets": according to the United Nations Conference on Trade and Development (UNCTAD), more than half of all the world's sunflower oil comes from there, as does nearly a quarter of the world's wheat. Countries in the Middle East and Africa are particularly reliant on these products: according to UNCTAD, 25 of the region's countries import wheat worth nearly two billion US dollars from there per year. The collapse of Ukrainian agriculture and the economic sanctions against Russia have brought about a dramatic shortage of basic foodstuffs, making them much more expensive for millions of people in Africa: they have to pay up to 90 percent more for wheat, while farmers have seen fertiliser prices soar by more than 60 percent. UN Secretary-General António Guterres envisages a "hurricane of hunger".
This is affecting first and foremost the poorest of the poor, who are unable to soften the blow of rising prices by cutting back elsewhere. Relief organisations like the UN's World Food Programme (WFP) are finding it difficult in their turn to replenish their stocks – or have to pay exorbitantly higher prices to do so.
What Germany is doing to help
The emerging hunger catastrophe, which for example in East Africa is being additionally exacerbated by the consequences of the climate crisis, has spurred the German government into action: Federal Foreign Minister Annalena Baerbock and Federal Agriculture Minister Cem Özdemir both announced that Germany's payments to the WFP would be increased by 200 million euros.
As Özdemir concedes, however, Germany cannot replace Europe's breadbasket as a wheat exporter: "One has to see that there are limits to what can be done." The agriculture minister has called upon his country's population to reduce its consumption of meat: 60 percent of grain is fed to animals in Germany – equivalent to 25 million tons, this could meet half of the WFP's annual demand.
Improvements to agriculture
It is not really likely that Germans will suddenly all go vegetarian, which is why the German government's response to the food crisis is not limited solely to Germany. For many years, the Deutsche Gesellschaft für Internationale Zusammenarbeit (GIZ) has been running – primarily with African partner countries – the programme Food and Nutrition Security, Enhanced Resilience, which has now been further expanded: the German Federal Ministry for Economic Cooperation and Development (BMZ) is meanwhile supporting this programme with more than a billion euros per year. Germany's goal is to improve food security in unstable countries by improving their agriculture.
This can be done by developing new land for agriculture, rescuing farmland that has been overused, or using sustainable agricultural technology to boost productivity. Experts have calculated that every euro spent on agricultural improvements saves on average three euros in emergency aid.
In its efforts to do something to avert the looming food crisis, the German government is also being supported by private initiatives – first and foremost by "Aktion Deutschland Hilft", an alliance of more than 20 private relief organisations. Its 2,400 projects in 130 countries are geared to providing both acute emergency aid and long-term food security: in East Africa alone, 23 million people are currently reliant on help.
Lessons for global agriculture can also be learned from the current crisis. Namely that stable countries in particular should focus more on their agriculture, that they should use their soils and plants sparingly to ensure that they can still be used by future generations, and that they should prepare themselves for the consequences of global warming.