Together against hunger
Food security as a response to global hunger. A German-Ethiopian Research Training Group is breaking new ground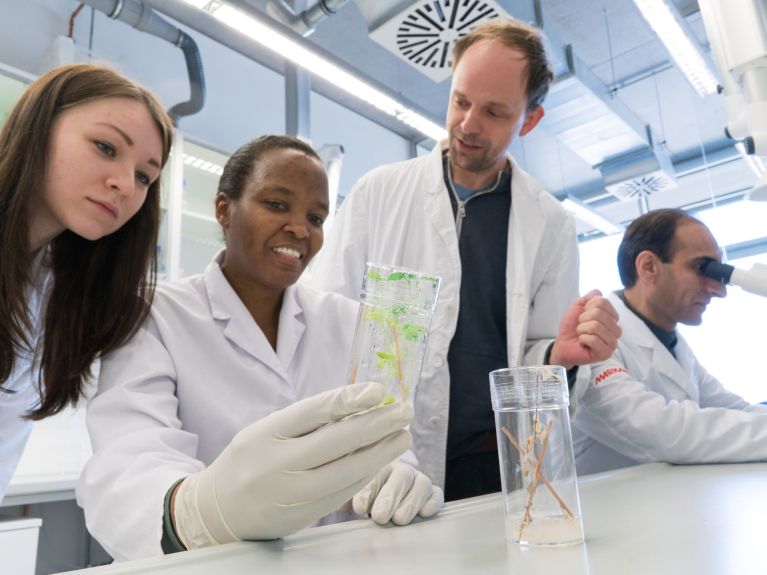 Around 800 million people worldwide suffer from hunger, especially in Africa. How can this be changed? Researchers are making an important contribution. CLIFOOD is the name of the new German-Ethiopian Research Training Group. With a view to the Sustainable Development Goals (SDG) of the United Nations, the group is investigating the connection between climate change and food security.
What is food security?
Food security means fighting hunger. It also means that people can consume sufficient vital nutrients. Otherwise there is the danger of malnutrition, especially in children.
What has hunger to do with climate change?
Ethiopia is very much affected by the climate phenomenon "El Niño". Since 2015, there has been extreme drought in East Africa. For agriculture this has serious consequences: cattle and goats find nothing more to eat, crops fail.
How can the German-Ethiopian research project help?
The Research Training Group CLIFOOD is a joint project of the Universities of Hohenheim in Germany and Awasa in Ethiopia. The researchers identify root crops such as potatoes and cassava that have adapted to the changed climate and develop proposals for how farmers can cultivate their land accordingly. CLIFOOD is also working on models that predict the climate in Ethiopia in the coming decades.
Can the results be applied to all of Africa?
The circumstances differ from region to region: microclimate, plant varieties and livestock are different. For East Africa, however, the Research Training Group is considered a lighthouse project; politicians and NGOs are interested in it. The Food Security Centre of the University of Hohenheim, which coordinates the project on the German side, is well-networked globally and can make the findings gathered by the Research Training Group known worldwide.