"We must considerably 
increase our efforts"
Ambassador Hinrich Thölken, Germany's Permanent Representative to the United Nations in Rome, on the fight against hunger in the world.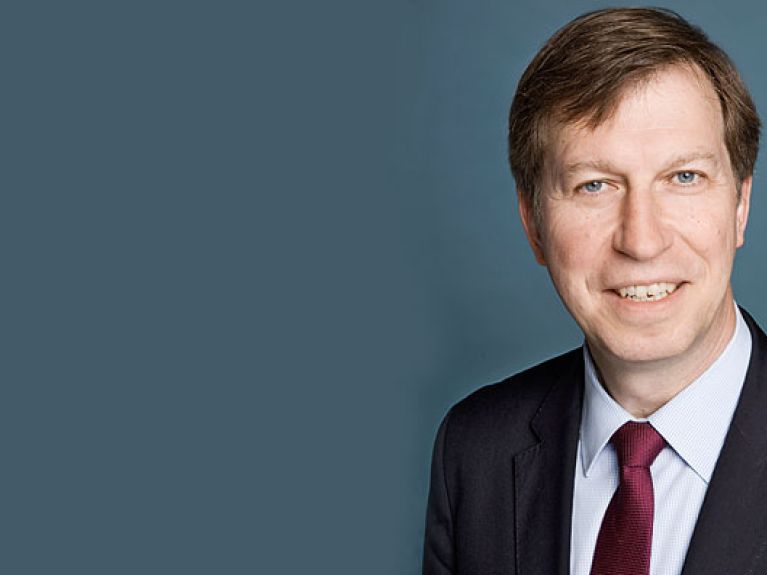 World hunger is still an issue – and the United Nations is working to overcome it. How much progress has been made?
In 2015, the international community agreed Agenda 2030, which also aims to eliminate hunger. Today, 795 million people are still undernourished. We must considerably increase our efforts to completely eliminate hunger by 2030. The good news is that this is tech­nically possible; there is enough food in the world.
Which measures promise success?
Many factors have to be considered: economic growth, overcoming unequal distribution, and the functioning of markets. Logistics plays a major role in reducing food losses. We want to improve the production conditions in agriculture in poorer countries through access to seeds and farming technology, also through education and strengthening the role of women. Success must be achieved in ending conflicts and creating peace. What is involved here therefore is an entire package of measures involving development cooperation, humanitarian aid, project work and support for loans to small farmers.
Three large United Nations agencies are based in Rome: the Food and Agricultural Organization (FAO), the World Food Programme (WFP) and the International Fund for Agricultural Development (IFAD). You represent German interests at these organisations – what are the main emphases?
We see the FAO primarily as a research organisation for agricultural and food issues and in the fields of forestry, soil and fisheries. The FAO is meant to develop new strategies for feeding humankind. We actively support this. The WFP is the largest actor when it comes to 
humanitarian disasters, to assistance for times of crisis and transition. The number of crises is increasing, and some drag on for years. We support the WFP is addressing these challenges. The IFAD is intended to combat poverty in rural areas and support agriculture by small farmers. We closely support IFAD in activities on adapting to climate change, securing agricultural value chains and access to markets, as well as when it comes to support for women and improving rural infrastructure.

What concrete contribution is Germany making?
We are the third largest contributor to the FAO. In addition, Germany pays voluntary contributions to a bilateral trustee fund – currently 95 million US dollars. We are working for a sustainable increase in productivity in agriculture and the food industry, for example, through a country partnership with Sierra Leone to implement guidelines for the responsible administration of rights to soil and land use. All relevant actors come together within the framework of the Committee on World Food Security (CFS) to coordinate global strategies for 
food security, nutrition and sustainable agriculture. We want to develop norms and guidelines under international law to promote food security as a high-priority goal of national politics worldwide. Since the Syria conference in London at the beginning of 2016, Germany has been the second largest donor with over 700 million euros this year. We make an important contribution to supplying refugees from Syria and to combating the 
effects of El Niño. In 2015 we began funding a WFP innovation centre in Munich. Since 2013 there has been 
a strategic partnership with IFAD, for which over 15 million euros has been made available. Furthermore, in 2014 the KfW banking group granted a loan of 400 million euros to IFAD.
Which project do you find especially impressive?
The World Food Programme has been supplying refugees from and in Syria for years. This is often done 
under the most difficult circumstances and at great personal risk to the helpers in difficult-to-reach regions. I have the greatest respect for this important work. ▪
Interview: Janet Schayan