Germany's new foreign minister
Germany new face to the world: Annalena Baerbock heads the Federal Foreign Office.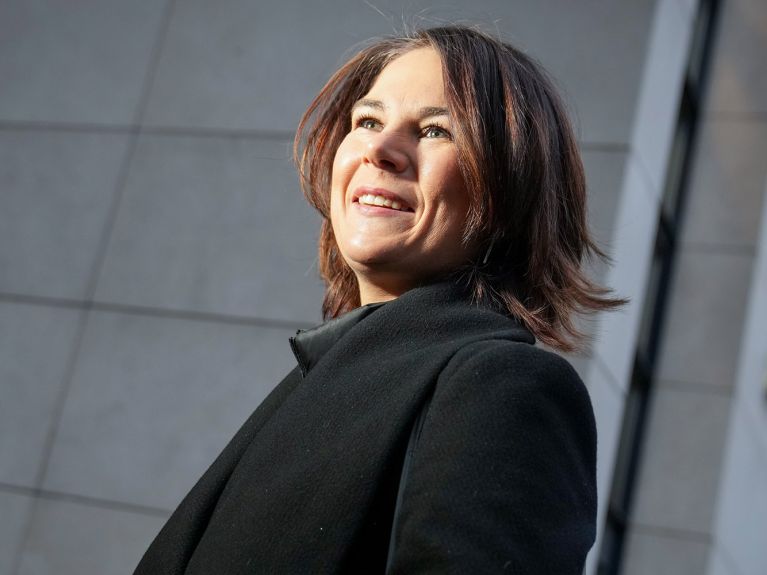 She is the first woman and the youngest person ever to head the Federal Foreign Office: Annalena Baerbock of the Green party is the new foreign minister of the Federal Republic of Germany. Together with Robert Habeck, the future economics and climate minister, Baerbock, who is the first candidate for chancellor of the Greens, achieved her party's best result in a national election so far: 14.8 percent. The Foreign Office has already been run by one member of the Greens before her: namely by Joschka Fischer from 1998 to 2005.
The climate crisis: an international challenge
When the new governing coalition of the SPD, Greens and FDP presented their coalition deal, Baerbock described the climate crisis as the "greatest challenge of our time", saying that it is an issue that affects all fields of policy, including international cooperation, foreign and security policy. This is why she believes that protecting the climate is a key topic for German diplomacy. "We can only achieve climate neutrality by working together with a globalised world", she said in an interview with the TV channel ARD: "It is important not to think of climate policy in national terms."
Deeper cooperation in Europe
Baerbock has been calling for years for the European Union to show greater commitment in the world. In their coalition agreement, the SPD, FDP and Greens are aiming to achieve a "genuine joint foreign, security and defence policy in Europe" – including greater cooperation between the national armies. She once said that Europe must play a "peace role" in the world. This is a stance that has long characterised German politics. The new foreign minister can therefore be expected to show great continuity when it comes to German positions: championing multilateralism and the strengthening of the United Nations, resolute commitment to the European Union and to deepening the community, and a foreign policy that gives primacy to human rights.
Annalena Baerbock was born in Hannover in 1980. A former competitive trampoline gymnast, she studied political science in Hamburg and obtained a master's degree in public international law at the London School of Economics and Political Science. Her dissertation, which she abandoned to pursue her political career, also had an international subject, exploring humanitarian aid and international law. The mother of two daughters, she has been a member of the Greens since 2005 and a member of the German Bundestag since 2013.