The future chancellor
The Social Democrat Olaf Scholz has been elected as the new Federal Chancellor. We introduce Angela Merkel's successor.
Carsten Hauptmeier / 24.11.2021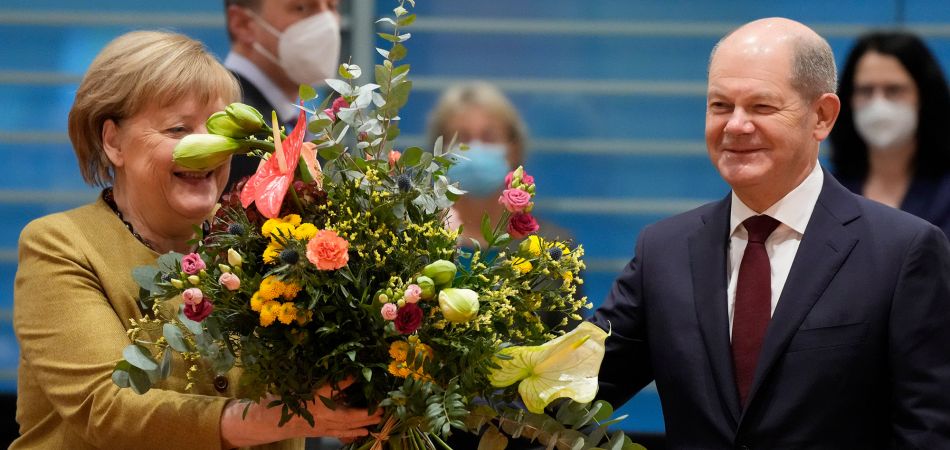 The social democrat Olaf Scholz is to head the new governing coalition of the SPD, Greens and FDP as federal chancellor. Olaf Scholz already served as vice chancellor in Chancellor Angela Merkel's last cabinet now he is set to succeed the CDU politician, who decided after 16 years in office not to run again in the Bundestag elections on 26 September 2021. We present an overview of the key milestones in his political career:
Early political engagement
Scholz, who was born in Osnabrück in 1958 and grew up in Hamburg, already joined the Social Democratic Party of Germany (SPD) at the age of 17 . "I was always politically engaged and became student representative at my grammar school in Hamburg-Rahlstedt at an early stage", Scholz writes about himself. He studied law and from 1982 to 1988 was deputy chairperson of the Jusos, the youth wing of the SPD.
Between Hamburg and Berlin
Scholz spent a long time commuting back and forth between the Hanseatic city of Hamburg in the north and the German capital: he became a member of the Bundestag (Germany's parliament) for the first time in 1998, and was appointed interior senator in Hamburg in 2001. From 2002 to 2004 he was the SPD's secretary-general during Federal Chancellor Gerhard Schröder's term in office. He was federal labour minister from 2007 to 2009, and in 2011 the people of Hamburg elected him as their first mayor, a position he held for seven years. Following the 2017 Bundestag elections he moved back to Berlin, where he took up the position of vice chancellor and finance minister in the Federal Government.
The path to the Chancellery
Though Scholz sought to become SPD chairperson in 2019, an internal party vote resulted in this position being shared between Saskia Esken and Norbert Walter-Borjans. Nonetheless, the Social Democrats picked the then finance minister to be their chancellor for candidate in 2020 – no other party decided on their candidate so early on. Though the polls did not paint a particularly positive picture for quite some time, the SPD in fact ended up ahead of the CDU/CSU when the elections were held in September 2021. Afterwards, it took just a few weeks for the SPD, the Greens and the FDP to agree to form a coalition government – with Scholz as chancellor.
Continuity in foreign policy
The new head of government will lead a coalition that has never been seen before in Germany. The alliance plans to chart a new course, for example in climate policy. As far as foreign policy is concerned, however, Scholz signalled early on that he believes in continuity. When he travelled to Rome with the then Acting Chancellor Merkel to attend the G20 summit in October 2021, he himself described this as a "signal of continuity", explaining that this would give them the chance to talk jointly with the other countries and ensure "that everyone can continue to depend on Germany and on its role as a country that contributes to global cooperation."
Married to SPD Education Minister Britta Ernst
Scholz and his future wife met in Hamburg in the mid-1980s and were married in 1998. Ernst is the minister for education in the state of Brandenburg and was previously schools minister in Schleswig-Holstein. The couple lives in Potsdam, the Brandenburg state capital. In Scholz's words, Britta Ernst is also the reason why he exercises regularly these days: "I used to hate sport at school, but now I jog as often as I can." He said this before being elected chancellor, however.