Invitation to a little trip around the world
Why travel around the globe? We show you where Germany is as beautiful as Venice, southern France or Florida.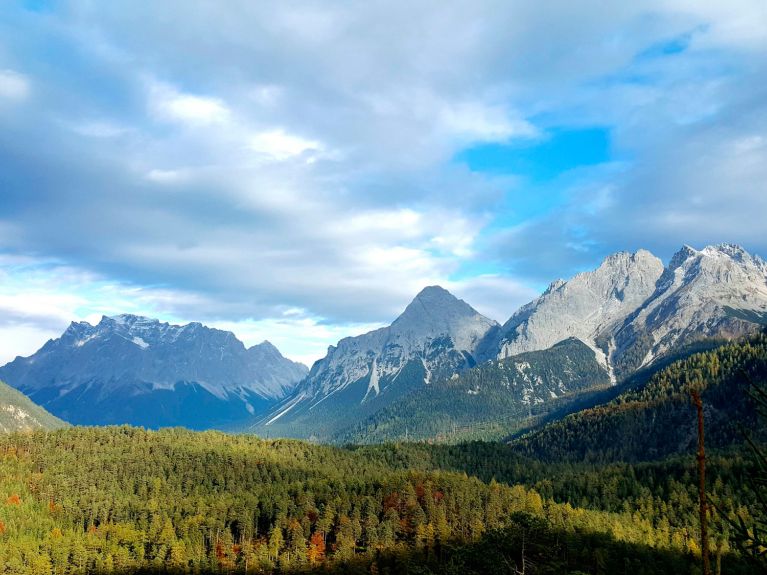 The Alps are our Rocky Mountains
A destination of sublime beauty, with snow-capped peaks, rugged cliffs and verdant alpine meadows – this is what the Alps have in common with the Rocky Mountains. At up to 4,000 metres, the European mountain range, which also runs through Germany, is just as high as the Rockies, though the latter is four times longer. Germany's highest mountain is the almost 3,000 metres high Zugspitze.
Hamburg is our Venice
Canals between street canyons, bridges, stately town houses and cruise ships – Hamburg is Germany's Venice. Who would have thought that the most bridges in Europe are in the Hanseatic City? There are 2,500; twice as many as in Venice and Amsterdam put together.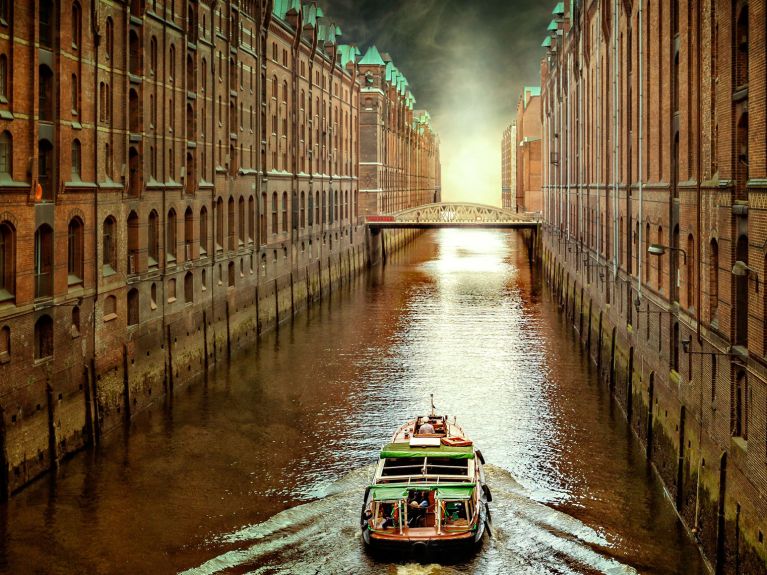 The geyser of Andernach is our Strokkur
The fountain shoots into the sky up to 60 metres high. The highest cold water geyser in the world is not in Iceland but on an island in the Rhine near the town of Andernach. It can be reached by boat from the Geyser Centre, which also provides interesting explanations of volcanic activity in the Eifel.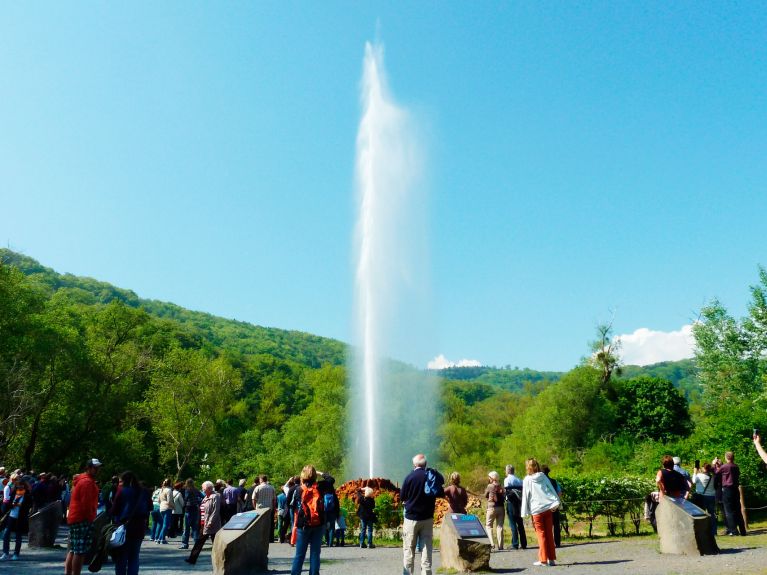 Frankfurt is our New York
Okay, everything here is one size smaller. But skyscrapers, banks and stock exchange, art museums, an alternative artist scene, an opera house, underground clubs and a colourful mix of cultures –Frankfurt too has all this to offer. Let's call it Mainhattan.
Lake Constance is our Lake Baikal
Long, narrow, deep and framed by mountains - this is what Lake Constance has in common with Lake Baikal in Siberia. Deep, however, is relative, because even the deepest lake in the Alpine region is only 250 metres down, while the Baikal holds the world record at over 1,600 metres.
The Ache is our Ardèche
The sea foam sprays, the boat dances on wild whirlpools, the turquoise glittering river rushes between white pebbles and rough rock walls – with water sport fans, the Tyrolean Ache in Bavaria can compete with the French Ardèche.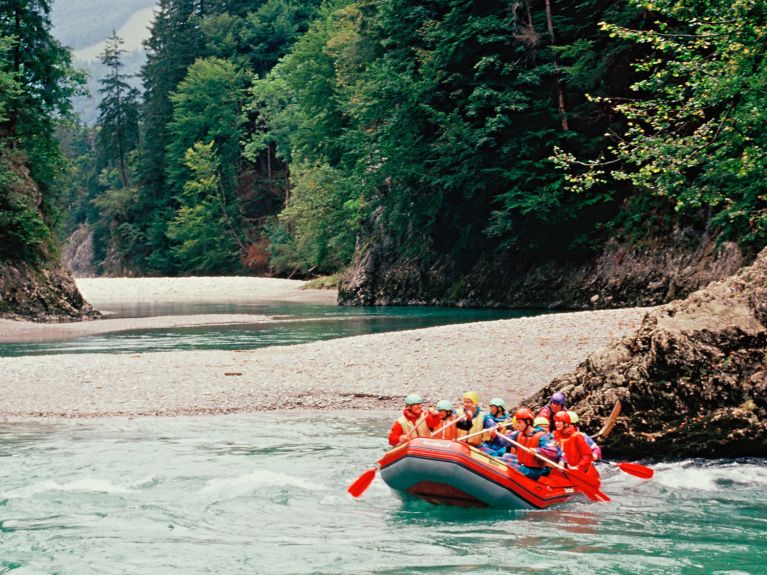 Usedom is our Florida
Almost endless white sandy beach, sun worshippers and bathers, chic holiday houses – at least in midsummer on the Baltic island of Usedom, Florida flair prevails. Admittedly, instead of palm trees, pines grow, and it is noticeably colder too. But the Baltic beaches score with beach chairs and washed-up amber.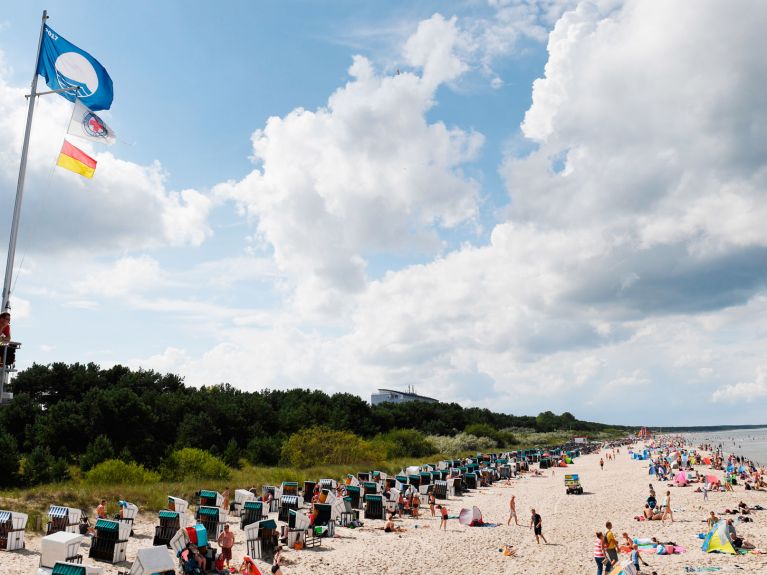 The Palatinate Forest is our Yosemite Park
Trees as far as the eye can see. In between bizarre red sandstone rocks rise up, glowing bright red in the sunlight. The Palatinate Forest Biosphere Reserve is Germany's largest continuous forest area. Although no bears roam it, there are lynxes and wild cats.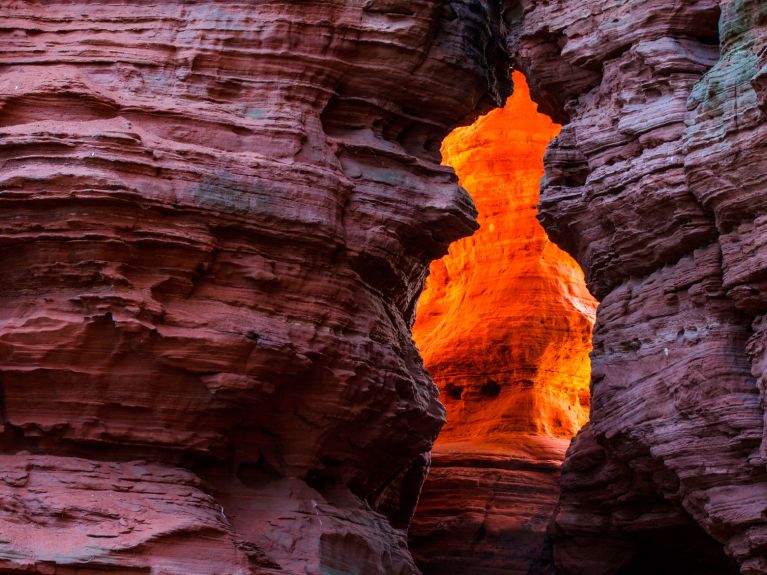 The Mathildenhöhe Darmstadt is our Kremlin
This ensemble in Darmstadt is not of course a fortress as in Moscow, but rather an artists' colony. It includes, however, a Russian Orthodox chapel with golden domes, which even stands on Russian soil. Czar Nicholas II had it built in 1897 for his family, because his wife Alexandra was princess of Hesse-Darmstadt.