Ten facts about sustainable food
Be it regional, organic, vegetarian or vegan: let us show you which sustainable foods Germans serve up.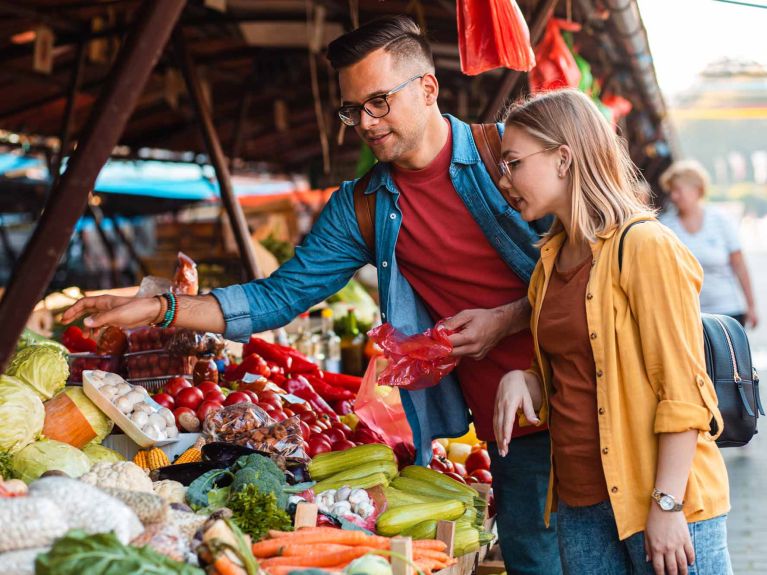 1. 82 percent of Germans consider it important for food to be grown regionally. This applies particularly to eggs (86 percent) and to fruit and vegetables (86 percent). However, consumers in Germany also prefer to seek out regional products when buying bread and pastries (83 percent), meat, sausage and cold cuts (78 percent) and dairy products (71 percent).
2. 87 percent of Germans believe that eating regional products can help improve the supply of food for a growing global population.
3. 46 percent of 14- to 29-year-olds also believe that meat manufactured in a laboratory could be a good solution when it comes to feeding the world's population.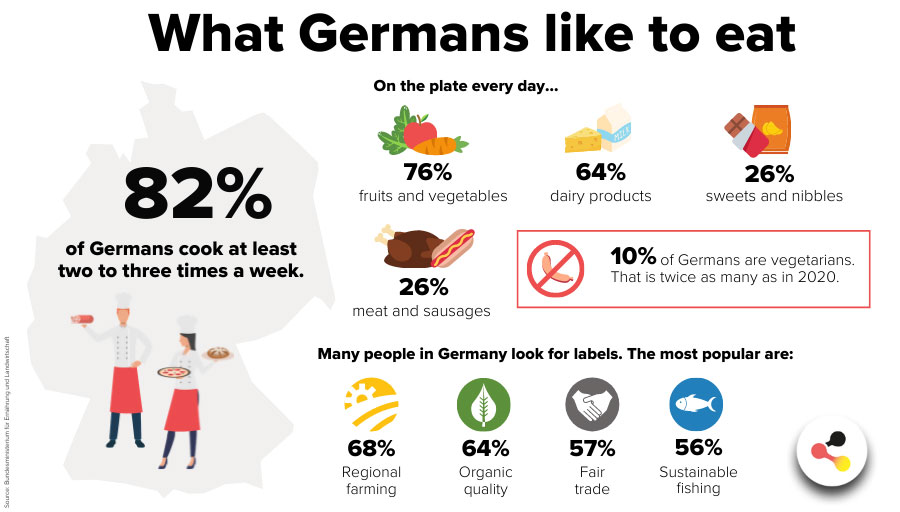 4. 73 percent of people in Germany care about animal welfare. 86 percent therefore support the state animal welfare certification that the Federal Government is planning to introduce.
5. Information about whether a meat product meets animal welfare requirements is considered even more important than the use-by date printed on foods.
6. The number of vegetarians doubled from 2020 (five percent) to 2021 (ten percent).
7. Consumption of meat, sausage and cold cuts has declined, on the other hand. In 2015, 34 percent of people in Germany still ate meat every day, while only 26 percent still do in 2021. Of the daily meat eaters, more are men (33 percent) than women (18 percent).
8. The consumption of plant-based substitutes is popular in Germany. Younger people in particular (19- to 29-year-olds) often opt for vegetarian or vegan dairy and meat alternatives (47 percent). 17 percent even eat such products several times a day.
9. The bigger the town, the larger the proportion of people who regularly eat plant-based substitutes. The proportion of people in towns with fewer than 5,000 inhabitants is 20 percent, but 46 percent in cities with more than 500,000 inhabitants.
10. Climate protection plays an important role when choosing alternative products. Those who have tried meat or dairy alternatives do so for the most part out of curiosity (71 percent), followed by an interest in animal welfare (59 percent) or a desire to protect the climate (54 percent).
*Source: Nutrition Report 2021
You would like to receive regular information about Germany? Subscribe here: