A laboratory for ideas
Social entrepreneurs are keen to make the world a better place. The Social Impact Lab is providing start-ups with the necessary support. What is most important in this context?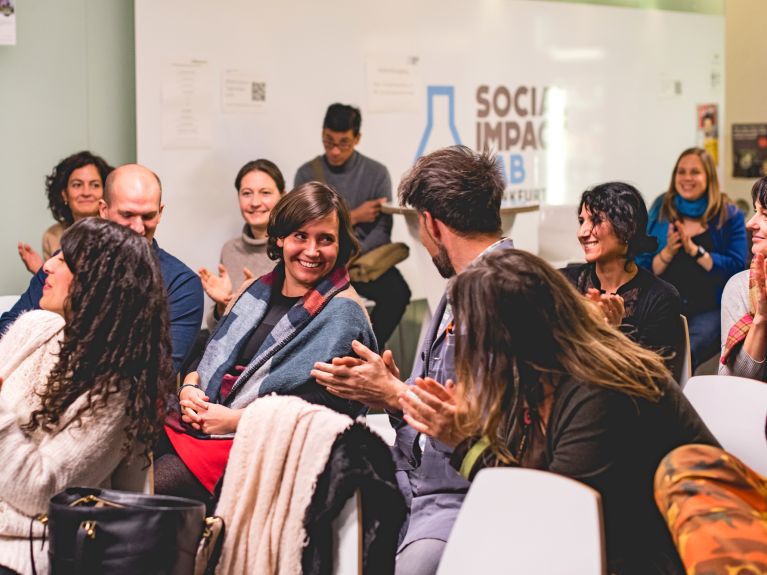 Germany. She has just five minutes to convince the jury. Carla Otto tells them about her holiday in Greece, how she was picking up plastic waste on the beach and suddenly saw this octopus crawling over an empty bucket. It was an image she simply could not get out of her head. Back home, the designer came up with a stretchable biological foil that could be used over and over again to cover up plates and bowls in the fridge, dispensing with the need for aluminium foil. The jury at the Social Impact Lab in Frankfurt am Main is intrigued: Otto is accepted into the funding programme, as are four other project teams on the same day. They have come up with ideas to help with refugee integration or to generate more exchange between neighbours. What lies ahead of them now? Five questions and answers.
What is the Social Impact Lab?
An incubator for social innovation. Prospective social entrepreneurs are supported here – people "who use business ideas to solve a social problem", says Sébastien Martin, director of the Social Impact Lab in Frankfurt. There are seven other labs around Germany. More than 400 company founders have already worked on their ideas there.
What exactly does the lab offer the entrepreneurs?
Every start-up is provided with a progress coach to support them. The entrepreneurs can take part in workshops on finance, law, tax, marketing and other subjects. They are accompanied throughout the process by representatives of major companies such as SAP or Deutsche Bank or freelance advisers, who act as their mentors. Most importantly, however, they are part of a community and can share ideas and thoughts with others in the same boat. The programme lasts for up to eight months.
Are social enterprises allowed to make a profit?
Absolutely. A social enterprise should also aim to make a profit, says Sebastién Martin. "Though not at the expense of other people or the environment."
Is funding available for such business ideas?
That is indeed not easy. "All founders of social enterprises are faced with the question of how to raise capital", says Martina Köchling, programme director at KfW Stiftung, which supports the Frankfurt-based lab together with the JPMorgan Chase Foundation and Prof. Otto Beisheim Stiftung. As Annette Heuser from Beisheim Stiftung explains, the partners also want "to increase awareness in the financial industry and reduce prejudice". "More and more companies want to invest in a sustainable future. And this is something banks need to adapt to."
Have the Social Impact Labs generated any success stories?
Yes, loads. "Stitch by Stitch", for example. This sewing business helps refugees gain a foothold in the employment market. Over the next few months, deutschland.de will be presenting other social enterprises in a series.