How we became a couple
In an interview, Samira and Sohal from Berlin talk about their shared journey, about cultural differences and marriage for all.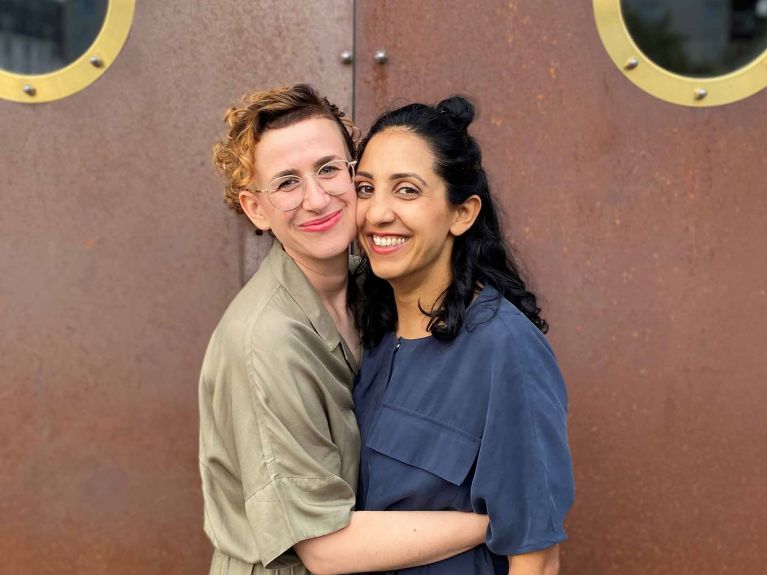 Hello Samira, hello Sohal, you've been a couple for almost nine years. How did you get together?
Samira: We were both studying at Hanover University and had a common acquaintance there. Each of us had kind of cried on her shoulder separately, saying we felt the queer community in Hanover wasn't diverse enough at the time. In this way we started talking, became friends and eventually a couple.
Sohal: As a female PoC ('person of colour'), I didn't feel represented in the queer community in Hanover; queer stereotypes also dominated films and TV series. I missed the intersectionality, the insight that a queer community is not just white and privileged.
Has the situation improved in recent years?
Samira: There's more representation, but that's also a generation issue. Generation Z is more upfront in the way they handle gender, sexual orientation and identity. In social media, lots of people can build their own communities and extend their reach; more people can become visible or even become mouthpieces. There's no longer just the one image of the lesbian woman; the spectrum is much wider. This is also one reason we call ourselves queer – because that includes lots of intersectional attitudes and identities.
Sohal: I think there's still room for improvement when it comes to representation, both in the media landscape and in politics. We still have to do a lot of educational work ourselves – at work or in the family.
Have you had different experiences with that?
Sohal: Yes. My parents are from Afghanistan, from a conservative, very heterosexually dominated environment. My brother, who is seven years younger, is also queer. We lacked role models, but we were fortunate enough to embark on the journey to our identities together. We were able to take our family along with us on this journey, even though we still have to do a lot of explaining about our life plan.
Samira: After my father and mother separated, I grew up in a rainbow family in a small Bavarian town. Because my mother and her female partner lived their relationship openly, my socialization was very different from Sohal's. There was a high degree of acceptance of same-sex relationships among our family and friends. But as a child I also saw how hostile some people were towards my mother and her partner.
In 2017, Germany passed the law making marriage possible for same-sex couples – they call it marriage for all. What does that mean for you?
Samira: It's a bit ambivalent for us. On the one hand, it was an important historical step that moved us a lot. On the other hand, I can also understand people who say: "I don't need a life construct that has been denied to me for decades."
Sohal: Before 'marriage for all', there was a situation where I had to go to a hospital A&E department, and Samira couldn't come to see me. Marriage for all also has lots of legal benefits. And for the two of us, our wedding last year was also a strong symbol of our togetherness.
You would like to receive regular information about Germany? Subscribe here: