Travelling, working, living
The Working Holiday Programme enables young Israelis and Germans to explore the respective other country while working part-time. Here you will find all the necessary information.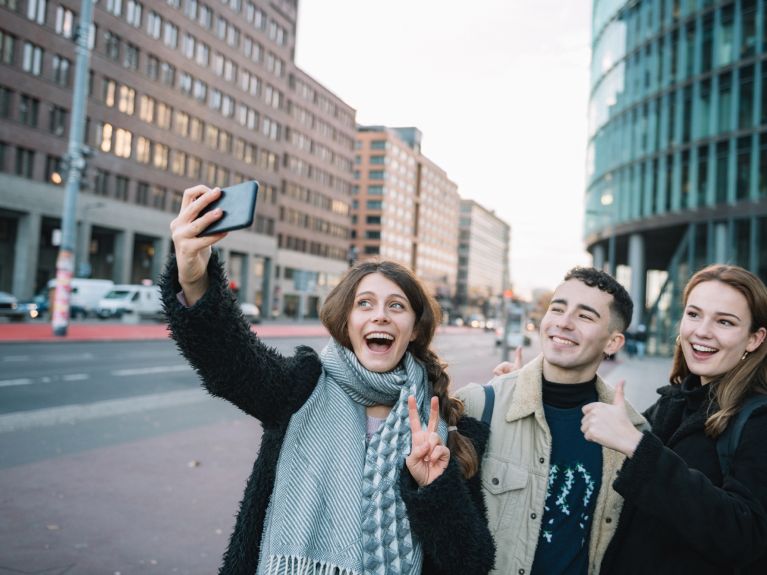 Do you come from Israel and want to spend a year exploring Germany while earning money part-time? That's very easy with a Working Holiday Visa. Israel and Germany signed an agreement on the Working Holiday Programme at Intergovernmental Consultations in February 2014. Two years later it came into effect. Since that time young Israelis and Germans have been able to travel to the other country for one year and work to finance their trip.
The emphasis of the Working Holiday Visa (WHV) is firmly on "holiday": travel is the main thing. The jobs are only meant to provide financial support for the stay in Germany or Israel.
Making new friends
"Youth exchange is an important pillar of the bilateral relations. The Work and Travel Visa is one of many means that brings Germans and Israelis together," explains the spokeswoman of the Israeli Embassy in Berlin, Shir Gideon. The visa allows young people from the two countries to travel easily for a longer period. "Lasting friendships frequently develop and overcome cultural differences and stereotypes. Nowadays, especially, there is no substitute for personal connection," says Gideon.
Because of the past, she adds, friendship between Israel and Germany should not be taken for granted. "We regard the visa as an investment in future generations so that our children and grandchildren will also be able to enjoy this special and strong link between the two countries," says the spokeswoman.
Increasing demand for Working Holiday Visas
The visa formalities are simple, uncomplicated and fast, emphasises Simon Reichgruber from the German Embassy in Tel Aviv. Interested individuals simply book an appointment free of charge on the German Embassy website and then bring the necessary papers with them. "If all the documentation is there, the passport can normally be collected again with a visa after five days." Reichgruber says that demand for Working Holiday Visas is continuing to rise. "The word is spreading that this opportunity exists."
Who can take part in the Working Holiday Programme?
The Working Holiday Visa is aimed at Israeli and German citizens between 18 and 30 years of age.
Where and how long am I allowed to work with a Working Holiday Visa?
In principle, you are allowed to work full- or part-time for up to twelve months. However, you must change employer after three months at the latest. Free-lance work is also possible. You are also allowed to take part in vocational or further training courses for a total of six months.
How do I apply for a Working Holiday Visa?
Israeli citizens can apply for a WHV either in advance at the German Embassy in Tel Aviv or directly at the relevant Foreigners' Registration Office in Germany after (visa-free) entry into the country.
What documents do I need to present with the visa application?
An overview of all the necessary documentation is provided in an information sheet on the website of the German Embassy in Tel Aviv.
When can I start working?
You can begin gainful employment as soon as the Embassy or the Foreigners' Registration Office has issued you with a Working Holiday Visa.
What kind of work is there and where can I find it?
There are large numbers of jobs in Germany in the restaurant trade, in agriculture and in call centres. The Federal Employment Agency in the respective town will provide help in looking for a job. Or you can carry out searches for temporary or part-time work using online employment exchanges like monster.de, stepstone.de and indeed.com.
More information on finding work is available here:
How do I find accommodation in Germany?
Especially in large German cities finding short-term accommodation is not particularly easy. These are the best websites for finding temporary accommodation:

 
WG-Gesucht is Europe's largest website for rooms in shared accommodation (Wohngemeinschaft, or WG for short) and apartments that are let without a commission fee.
Facebook groups: all larger towns have regional groups on Facebook that help people find accommodation. Here are a few examples: Berlin Apartments, WG & Wohnung gesucht München, Zwischenmiete WG & Wohnungen Hamburg
eBay-Kleinanzeigen: this classified ads system works like Gumtree or Craigslist
Immowelt.de is also a website for finding accommodation. Here, however, many of the advertisements are posted by agents and not landlords
 
Do I need to speak German?
It is advisable to attend a German course before you go. You should at least have basic knowledge of the language. As a rule of thumb it can be said that the more ambitious the job, the better the language skills required. The Working Holiday Programme is a good opportunity to learn a new language.
Here are a few German words that you will encounter during your working holiday stay in Germany:
You would like to receive regular information about Germany? Subscribe here: