Volunteering in Germany
Doing good and getting to know the country and its people: we introduce you to volunteer programmes for international participants.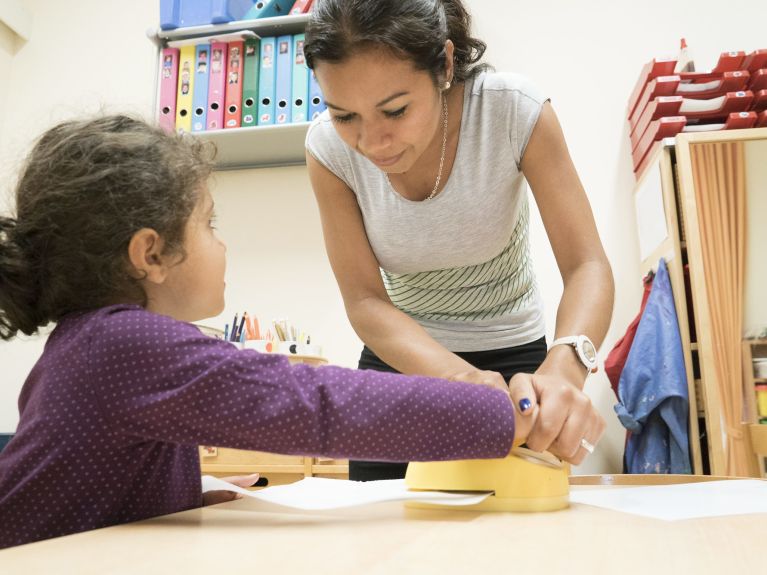 Germany. Doing volunteer work in another country is an enriching experience. There are many opportunities for young people from all over the world to engage in volunteer service in Germany. The offers range from social and environmental projects to political education. An overview.
Federal Volunteer Service
Offers under the Federal Volunteer Service (BFD) are also open to people from other countries. Anyone who does not live in an EU country needs a visa that entitles him or her to gainful employment. There is no age limit. Interested people can find vacancies in the job market and apply to the respective institution.
There are annual programmes for school graduates up to the age of 27: in the Voluntary Social Year (FSJ) they help in kindergartens, cultural institutions, sports clubs, hospitals or nursing homes. It is a good preparation for jobs in the social field. Those interested in nature, environmental protection or agriculture can do a Voluntary Ecological Year (FÖJ).
Voluntary Ecological Year (FÖJ)
European Voluntary Service (EVS)
The European Commission promotes voluntary service in non-profit organizations in Europe. Young people between the ages of 17 and 30 from EU countries and Erasmus partner countries can take part. Many projects in Germany are advertised on the job market.
Weltwärts (i.e. Worldwards)
The developmental Voluntary Service of the Federal Ministry for Economic Cooperation and Development has been extended to include a South-North programme. Eighteen to twenty-eight-year olds from Africa, Asia, Latin America and Eastern Europe can take part in projects in Germany. Interested people can apply to weltwärts sending organizations in their home countries.
International Youth Community Services (IJGD)
This association provides several months of volunteer services in the social, cultural, political and environmental fields. The incoming programs are aimed at interested people from outside Germany.
Action Reconciliation Service for Peace
One of the largest German voluntary organizations is the Action Reconciliation Service for Peace. It works primarily with organizations in countries that have suffered under the terror of Nazism, but also offers peace services within Germany. The goal is reconciliation and understanding between cultures and religions.
Peace services for international applicants
ifa CrossCulture Programm
The Institute for Foreign Cultural Relations (ifa) offers young professionals up to three months internships in the fields of politics and society, peace and human rights, media and culture. The programme is aimed especially at participants from Islamic countries. The age limit is 45.