Umbilical cord for millions of people
deutschland.de asks what mobility will look like in the future: In Bolivia's capital, La Paz, the cable car is a democratic transport alternative.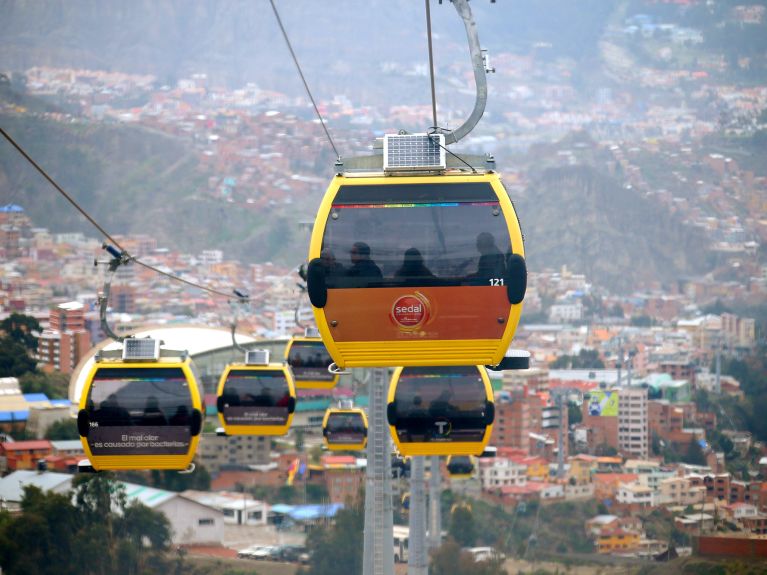 Glide to work in the morning or to the shopping centre in the afternoon. Simply climb into the gondola and enjoy the view while swaying at a brisk 19 km / h in thin air over the rooftops of La Paz. Clean, no traffic jams and no exhaust fumes. Watch other people in their sitting rooms and backyards or just enjoy the view of the snow-capped Andean peaks. This is modern public transport (PT) in Bolivia. But cable cars as an alternative traffic concept are also finding more and more fans throughout Latin America, for the major cities of the region have long been close to total gridlock.
The hills and mountains of cities such as Venezuela's capital Caracas, Brazil's megacity Rio de Janeiro or Medellín in Columbia afford an opportunity for such traffic concepts. For this reason mayors and presidents have been increasingly banking for some years now on cable cars as an urban means of transport. Traffic is thus simply outsourced to the gondolas.
In La Paz, Bolivia's capital, located 3,600 meters high in the Andes, is the world's best-developed, widest-branched and largest urban cable railway network. It is over 30 kilometers long, spread over ten lines. It is a sort of underground net in the air, connecting La Paz and its two million people to El Alto, the bedroom community lying at 4,000 meters. The "Teleférico" transports 100,000 people every day and serves as a kind of steel umbilical cord joining the two cities.
Inexpensive transport for poor commuters
The residents of El Alto are mainly poor people who travel daily to La Paz to sell their goods or to work in households or shops. Previously, they had to travel for hours in minibuses on serpentines into the metropolis and back. That's now over with. The gondolas are more comfortable and faster. The Teleférico saves passengers an average of 22 per cent of the previous travel time.
In addition to the time and environmental aspects, the cable car network of La Paz also has something democratic about it, because it brings together rich and poor, modern and traditional. What was far away and high above or far below and seemingly unreachable is now only a short gondola ride away. Since the first line was opened in 2014, the Bolivian capital has changed significantly. And the expansion of the cable car network continues. In 2020, the eleventh line is to be opened. And in future the state operators want to increase the number of users to 300,000 per day.
The upshot?
Cable cars are a space-saving, quiet and clean alternative, not only in high mountain cities like La Paz. "Retrofitting" is easier, cheaper and faster than, for example, underground construction.
You would like to receive regular information about Germany? Subscribe here: