Let's play!
Relaxing on the sofa and watching others play on YouTube. Germany's best-known gamers explain the fascination of esports.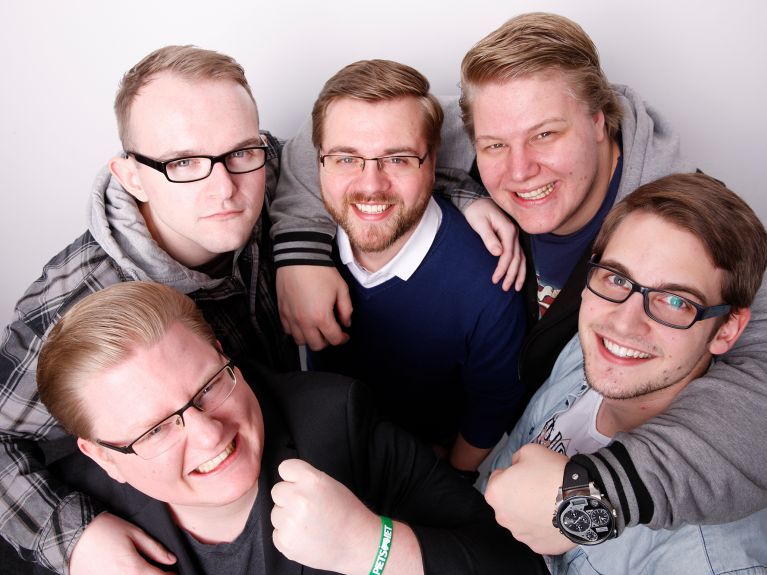 Hardly any other format on YouTube is as popular as Let's Play: gamers film themselves playing and then comment on their own performance. According to an online survey conducted by YouGov Deutschland, 16 million Germans have already watched such gaming videos. One in two could imagine shooting Let's Play videos themselves – like the five gamers in the PietSmiet team.
Peter Georg Smits, Dennis Brammen, Christian Stachelhaus, Jonathan William Moritz Apelt and Sebastian Lenßen have had their own YouTube channel since 2011. With over two million followers, they are among Germany's best-known gamers.
How did the idea of letting others watch you gaming come about?
We had heard that a few guys in the US were doing it, so we tried it out for ourselves. When we started out there was no way to make money out of it. It was more about the fun of getting together with friends in the evening and then posting the video online. At the time, we would never have dreamt that this would one day evolve into a company with several employees.
Why do your followers prefer to watch videos than play themselves?
I suppose it's like with football: sometimes people prefer to be entertained rather than be active themselves. That said, lots of people do also play themselves and even film themselves in the process.
What's a typical day for you as a YouTuber?
For us it's a job like any other: we get together for a team meeting at 10 am and record some videos. In the afternoons we reply to e-mails, chat to our customers and have meetings. These days we also stream in the evenings so our community can watch us live as we try out new games.
How many videos do you upload per week?
Around 28. Nowadays we employ cutters who edit and upload the videos.
How much work goes into a Let's Play video?
That depends on the format. A video game that just needs editing at the start and at the end involves far less work than a quiz show. A more complex format can easily take up an entire workday.
What is your prediction for esports?
Esports is the big growth market in the gaming industry. Even companies from other sectors are investing a lot of money in esports. The increasing level of professionalisation is also important. Esports has arrived and is here to stay!
You would like to receive regular information about Germany? Subscribe here: