Cooking, baking and blogging
Fascinated by Berlin, good food and the art of writing about it: Luisa Weiss talks about her German-American lifestyle.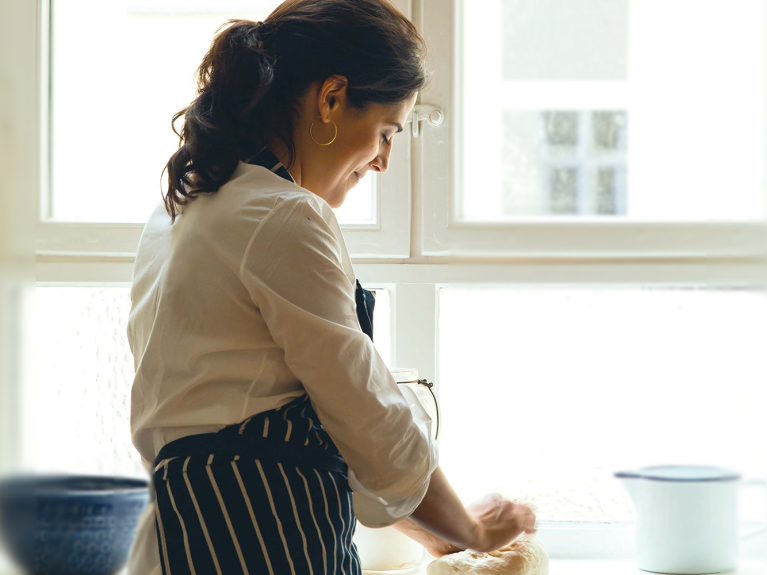 The author Luisa Weiss is keen to introduce German cuisine and bakery products to an international audience. The daughter of an Italian mother and an American father, she has made Berlin – the city where she was born – her home.
Ms. Weiss, while you were still at school you initially lived with your father in Boston and later with your mother in Berlin. You spent most of your holidays in Italy. How has your identity been shaped by shuttling between Germany, the US and Italy?
In Boston I lived with my father in quite a conservative and peaceful suburb. Though it was pleasant enough to live there, it was Berlin that was always closest to my heart. Even as a teenager I felt very much at ease in the international community that my parents belonged to. Lots of the people who live in this rather untypical German city identify with Berlin despite not being German themselves. It's much the same in New York, where I worked for various publishing houses after graduating in English and French literature at Tufts University.
You launched your food blog "The Wednesday Chef" in New York in 2005. What was the inspiration for this?
I am passionate about cooking myself, and I'm also interested in how other people cook at home. When the first food blogs began appearing online in the 2000s I was fascinated by the concept, so I decided to create my own food blog in my free time, though at first only in secret. For "The Wednesday Chef" I started out by taking recipes from the New York Times and the Los Angeles Times which I would cook and then compare the results. I kept the blog anonymous for two years, but to my own surprise my reader numbers quickly increased and the blog began to be mentioned in national newspapers. It was then I realised that I could happily put my name under it without any risk of losing my job. In the end, the blog actually opened doors for me, enabling me to embark on the next stage of my career: I was given the opportunity to work as an editor for a publisher of cookery books. Through my blog I had got to know many restaurant owners, chefs and other food bloggers, and that really paid off.
You abandoned your career at New York publishing houses in 2010 so that you could return to Berlin. What sparked that decision?
I enjoyed living and working in the US. Books are my universe, and I couldn't imagine anything better than being paid to indulge my great passion, reading. All the same, I was homesick for Berlin – I always felt that something was missing in New York. When I visited my mother in Germany I found it incredibly difficult to leave at the end. So that's why I left my then partner and job behind me and flew home. It was the right decision: I started a family in Berlin and also began working as an author full-time. In my debut book "My Berlin Kitchen" I wrote all about this period of upheaval and my yearning for Berlin, and told the story of my childhood, my search for myself, and my years in New York. The book also contains my favourite recipes: roast Brussels sprouts and braised chicken from New York, bracioline siciliane and chickpea soup from Italy, and Pflaumenmus and Rote Grütze from Berlin.
You published your second book in 2016: "Classic German Baking". Why did you decide to shine the spotlight on this area of German cuisine?
"Classic German Baking" is aimed at international readers, and particularly at a US audience, who I know very well thanks to my past. On the international market there are few books about baking that feature traditional recipes from the German-speaking world, such as yeast and streusel cake, Black Forest Gateau, poppy-seed crescent rolls and bread rolls. "Classic German Baking" is designed to fill this gap. At the same time, I wanted to make it clear to Germans that they can rightly be proud of their unique baking tradition, which is a really challenging craft!
You are currently working on a book about traditional German cookery recipes. Is that a challenge?
Yes, actually it is a lot more difficult. Baking recipes show a greater regional variety, and a slice of cake in the afternoon is an integral part of German culture. German cuisine, on the other hand, is viewed much less positively at the international level, and in some cases is reduced to simply meat platters, roasts and sausages. And my research did indeed reveal that typical German dishes often require meat. That said, I have also found some light vegetarian recipes that I will be presenting.