What attracts people to Berlin?
The federal capital attracts people from all over the world to Germany. We explain what makes Berlin so attractive.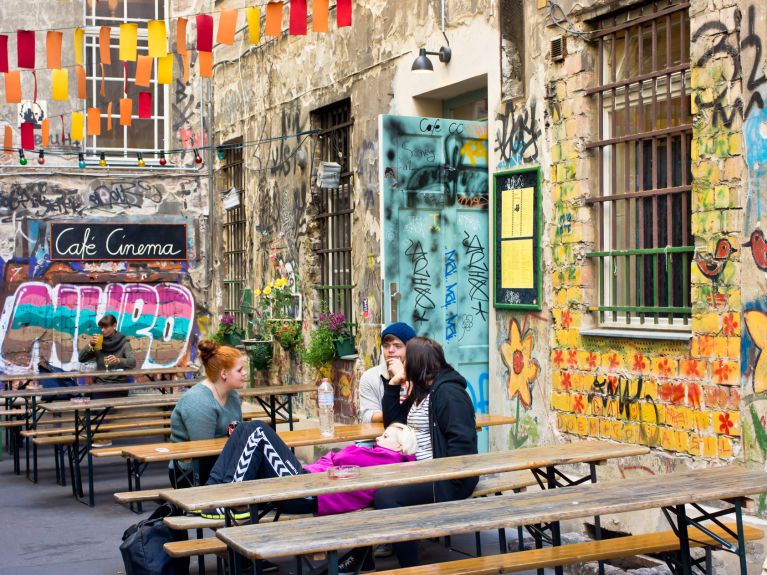 For decades, Berlin has enjoyed the reputation of an international metropolis that attracts people from all over the world. And there are many good reasons for this.
The German capital: creative and colourful
The German capital with its 3.7 million inhabitants is not only the political centre of Germany and the city in which scenes of German history can be found on almost every corner; today Berlin is also one of the most creative cities in the country. The numerous art galleries, lively street art scene and start-up culture contribute to this image. And of course there is the colourful and wild party scene with its legendary clubs, like the internationally famous and notorious Berghain.
Those who want to relax from the hustle and bustle of the big city can relax at one of the approximately 3,000 lakes or in the 2,500 parks and local recreation areas in and around Berlin.
From the Brandenburg Gate to the bust of Nefertiti
Berlin classics include the Brandenburg Gate, the Berlin Wall, the Reichstag building and the Berlin TV tower, the tallest building in Germany. The Berlin Museum Island is the largest museum ensemble in the world and a UNESCO World Heritage Site. The Neues Museum boasts the famous bust of Nefertiti. In addition to the renowned collections on the Museum Island in the heart of the city, Berlin is also home to 170 other museums, ranging from the Cat Museum to the House of the Future.
Hip districts in the east and west of the once divided city
Although the Wall can still be seen in many places in Berlin, there remain only a few differences between East and West. During the time of the Wall, a creative scene emerged especially in West Berlin, which slowly migrated to the East in the 1990s and 2000s. Today many hip clubs and galleries are located in East Berlin. Prenzlauer Berg, Friedrichshain and Mitte, all three are in the east of the city, are among the hippest districts.
You would like to receive regular information about Germany? Subscribe here: