Heavy metal festival in Wacken
Worlds clash every year at Wacken Open Air in Schleswig-Holstein – but that's all part of its charm.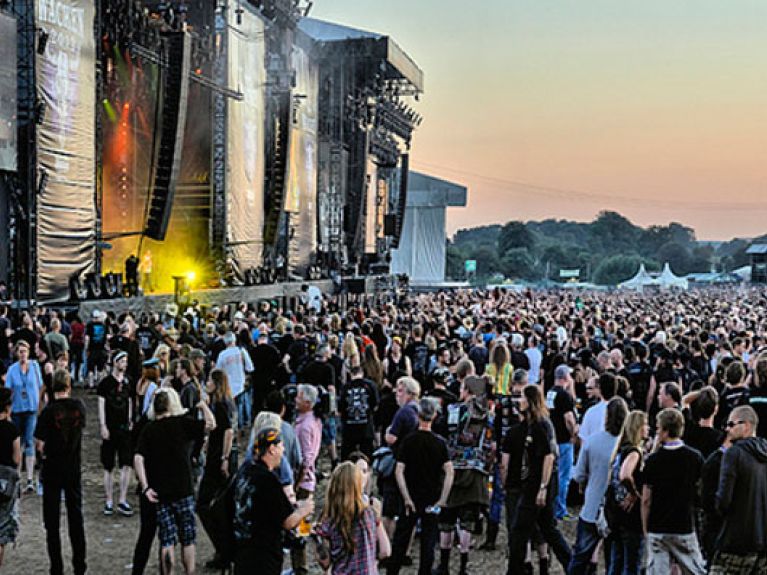 They could hardly be more different: on the one hand Wacken, a village in rural Schleswig-Holstein surrounded by forests and lakes with just under 2,000 inhabitants; and on the other about 75,000 mainly young fans of loud heavy metal music who come here every year on the first weekend in August. Worlds have been colliding in Wacken for 25 years now – yet the festival's charm lies specifically in the fact that villagers and music fans now share a special form of co-existence.
The South Korean film-maker Sung-Hyung Cho, who lives in Germany, portrayed this beautifully in her documentary Full Metal Village. In it, the local brass band and heavy metal musicians played side by side. The film has won several awards and was instrumental in making the name Wacken known to people throughout Germany, even among those who are anything but fans of heavy metal.
Perfect marketing: you can even go on a heavy metal cruise
In addition, the name stands for a hugely successful festival business. The number of visitors has risen significantly over the past few years; the tickets for 2015 were sold out in the space of twelve hours. About a third of the visitors and most of the bands come from abroad. And this is only the core of the whole thing. The organizers also run smaller festival spin-offs in other places; they also have their own beer called "Wacken Premium Pils" and a wide range of other merchandise products using the letters "W:O:A". Since 2013 holidaymakers with a penchant for heavy metal music can also book "full metal cruises".
Wacken seems to be an immovable rock in the German festival landscape, which is extensive and highly diverse, although not all events show such continuity as the one in Schleswig-Holstein. Smaller festivals especially are constantly fighting for survival. And things don't always go smoothly for the big ones either. Another classic, Rock am Ring, had to look for a new home in its 30th year. In 2015 the several-day party was held for the first time at a former military airfield in Mendig, Rhineland-Palatinate. The move was made necessary by disagreements between the festival organizers and the operator of the previous venue, Nurburgring. Although this didn't seem to bother the festival-goers: more than 90,000 came this year – a record.
Wacken Open Air from 30 July to 1 August 2015