Entdecke DE visits Dresden
The Entdecke DE series takes you on a tour through Germany. The first destination is Dresden.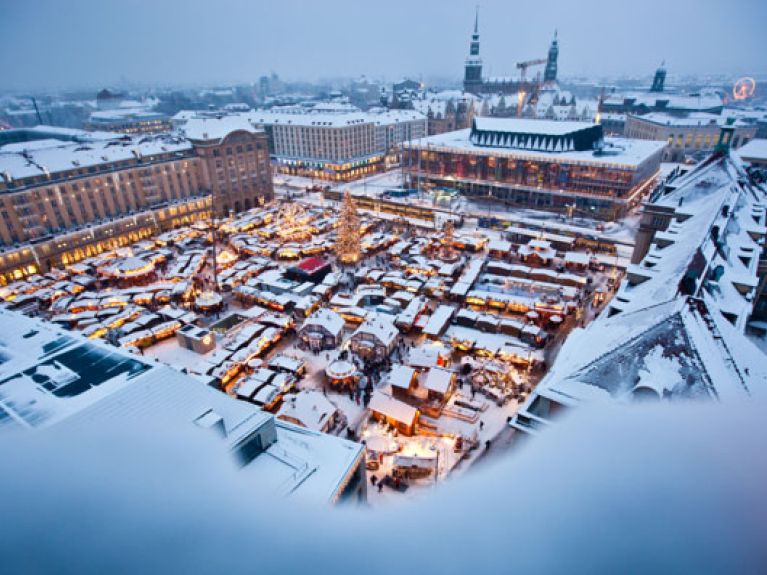 Dresden really makes it rather difficult. When is the best time to travel to the Saxon metropolis? In winter, when the smells of mulled wine, grilled sausages and baked delicacies at the Striezelmarkt, one of Germany's oldest Christmas markets, can cloud your senses? Or in spring and summer, when you can sit in a steamship on the Elbe – and float past the many palaces.
The best known "Dresdner" is actually available all year round: Dresdner Stollen is not only a bakery product, a kind of fruit loaf, but also a brand. Although every baker will have his or her secret ingredients, the basic constituents of a Dresdner Stollen are flour, butter, sugar, beef fat, raisins, candied peel, almonds, yeast, salt, lemon peel and milk. During the winter it is sold from the many wooden stands around Altmarkt and there is also a superlative version: an enormous Stollen that is sold for a good cause. In addition to its tasty delicacies, the Striezelmarkt is above all known for its traditionally made products from the surrounding region. That is why the world's largest Erzgebirge step pyramid, which is 14.62 metres high, stands in the middle of the market, spreading Christmas charm.
However, the city presents a very different atmosphere just a few months after the magic Yuletide lights. When the first rays of sunshine begin to arrive, the people of Dresden get together the whole family and go for a picnic on the river bank where they can enjoy the Canaletto view: in other words, the city panorama (almost) as the painter of that name saw it in 1748. As a visitor you should follow the example of the locals. Almost everything in Dresden can easily be reached on foot. "Florence on the Elbe" was the name the German poet Johann Gottfried Herder gave the Saxon metropolis. The city owes this title to its river, its silhouette and, of course, its art treasures. The best known among these is Raphael's Sistine Madonna with the angels at her feet. The two are never missing from art postcard stands the world over.
Dresden's architectural stars are just as famous, although some of them have only been rebuilt in recent years: Frauenkirche, Zwinger, Brühl's Terrace and the Semperoper. Visitors who only spend their time in Dresden's restored Baroque quarter will miss other facets of the city – for example, the inner Neustadt (New Town), which is one of the most beautiful quarters with many Baroque houses, or the outer Neustadt, one of Europe's largest areas of Gründerzeit buildings dating from the end of the 19th century. In any event, here you can enjoy a "Schälchen Heeßen", as Saxons call a cup of coffee, whether you decide to travel to Dresden in winter or in summer.
© www.deutschland.de