Labour market: new jobs in nursing
Germany needs more nurses to care for the old and the sick. This gives rise to opportunities for qualified nurses from abroad.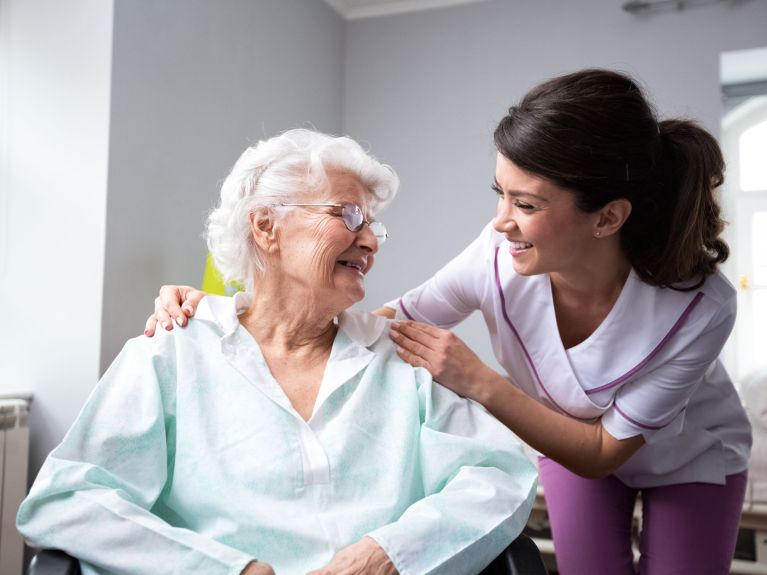 What is the situation in the German healthcare system?
Germany needs more and more nurses. This is because the country's society is ageing and the number of those requiring care is on the increase. According to the Federal Statistical Office, around 2.9 million people in Germany are currently reliant on nursing care. Population researchers believe that this number will more than double by the year 2050. At the same time, there are too few well-qualified nurses. Old people's homes and hospitals do not have enough personnel, leading to staffing shortages and overworked nurses.
How is the German government planning to improve working conditions in the nursing profession?
For example through its "Concerted Action Care" programme, which is to be rolled out immediately. The goal is to noticeably improve working conditions for nurses, to reduce the burden on them and to step up training in nursing care. Germany's ministries of health, labour and family affairs plan to fund around 13,000 new jobs in care homes from 2019. Depending on their size, this will provide homes with between one half and two full-time additional nursing posts. To ensure sufficient applicants, working conditions are also to be made more attractive.
What else is planned?
Among other things, the German government will further invest in digitisation so that nurses have less paperwork to deal with. The idea is for them to concentrate on their care duties rather than filling out forms and writing reports.
Why is the nursing care action plan also being criticised?
Though most social welfare associations and nursing care facilities welcome the government's initiative, some are sceptical and wonder how the additional posts are to be filled. In Germany there are not enough young people wanting to train as nurses. The Care Sector Employers' Association is therefore calling for a law that will better regulate the immigration of skilled workers from abroad.
What opportunities does Germany already offer nurses from abroad?
Excellent opportunities, assuming they have obtained a nursing qualification abroad that is also recognised in Germany. Proficiency in German is generally another important criterion. More detailed information can be found on the Make it in Germany website.