Motivated
At the start of the Paralympics in Pyeongchang we profile three athletes from the German Olympic team.
09.03.2018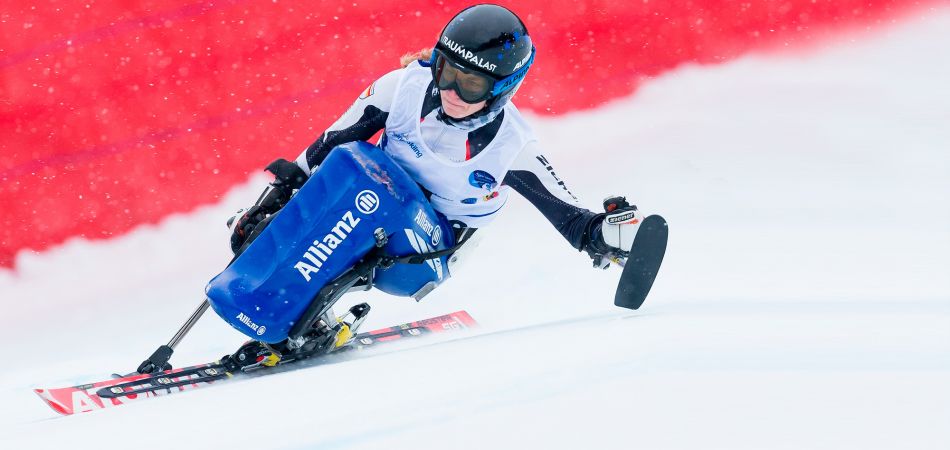 The star: monoskier Anna Schaffelhuber (25)
The sporting world was impressed: Anna Schaffelhuber won a sensational five gold medals at the 2014 Winter Paralympics in Sochi, Russia. Downhill, slalom, giant slalom, combined and super-G – the student teacher from Munich is also competing in Pyeongchang. She began skiing at the age of five. Because of her paraplegia she competes sitting on a monoski. Schaffelhuber doesn't like stopping for anything: "After a failure things have to start moving forward again," she says. "Non-handicapped people also often say I motivate them to try something new."
Mitglieder
hat der Deutsche Behindertensportverband. Er leistet einen wichtigen Beitrag zur Inklusion.
Athletinnen und Athleten
aus Deutschland starten bei den Paralympischen Winterspielen 2018 in Pyeongchang.
Medaillen
Im ewigen Medaillenspiegel der Winter-Paralympics belegt Deutschland mit 345 Medaillen Platz 2 hinter Norwegen.
Medaillen
gewann der deutsche Skifahrer Gerd Schönfelder bei Winter-Paralympics. Er hält den Medaillenrekord bei den Herren.
Medaillen
gewann die erfolgreichste deutsche Ski-Rennfahrerin Reinhild Möller bei Winter-Paralympics.
The youngster: cross-country skier Nico Messinger (23)
Among the German athletes competing in Pyeongchang in the Nordic skiing events (cross-country and biathlon) Nico Messinger is the youngest – and a sportsman with great potential. The national coach is full of praise: "This winter he made an enormous leap forward because he completed his vocational training and was able to concentrate completely on his sport." The car salesperson, who lives in Freiburg, has been visually impaired since birth. That's why he follows a sighted guide. A project at primary school got him involved in cross-country skiing. He is now celebrating his debut at the Paralympics and says: "There's nothing greater for a sportsman."
The all-rounder: biathlete Anja Wicker (26)
As a child Anja Wicker received a present of a handcycle because her wheelchair didn't satisfy her urge to move. Her handicap, a malformation of the lower spine, did not stop her trying out different types of sport. She has also been very successful at paracycling, but her main focus lies on the biathlon. When she's on the track five belts provide support on a special sitski. At the winter games in Sochi she won gold over 10 kilometres and silver over 12.5 kilometres. In her day-to-day life the Stuttgarter notices how her wheelchair unsettles some people. Her advice: "The best thing to do is ask and offer help. The most the other person can do is say 'no'."