7 out of 29
Germany is providing the most athletes for the Refugee Olympic Team. For many, it is a dream come true. 
Martin Orth / 02.08.2021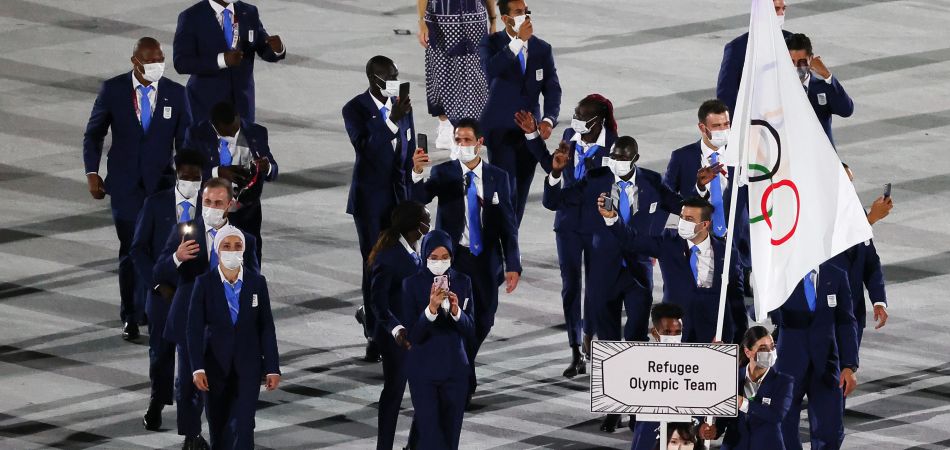 After the ten-member Refugee Olympic Team (ROT) debuted at the Rio Olympic Games in 2016 and received an excellent reception on all sides, the International Olympic Committee (IOC) has significantly stepped up its commitment to top refugee athletes. 29 sportsmen and women who have official United Nations refugee status are taking part in the Summer Games in Tokyo. The 29 athletes are from twelve different disciplines and were registered by 14 national Olympic Committees. The German Olympic Sports Confederation (DOSB) is responsible for six of them.
Yusra Mardini, a swimmer from Syria, has found a new home for herself in Hamburg and is already taking part in the refugee team for the second time. The swimmer Alaa Maso (Hanover), the boxer Wessam Salamana (Völklingen) and the karate expert Wael Shueb (Eppertshausen) are likewise from Syria. Taekwondo fighter Kimia Alisadeh (Aschaffenburg) and canoeist Saeid Fazloula, who has now settled in Karlsruhe, are from Iran. Then there is Ahmad Alikaj (Bergedorf) from Syria, who is benefiting from a programme of the International Judo Federation. This makes the National Olympic Committee in Germany the NOC with the most athletes in the Refugee Olympic Team.
Before departure, DOSB Board Chair Veronika Rücker said: "Participation in the Olympic Games, which is the high point of any athlete's career, deserves all the more acknowledgement in view of the difficult circumstances under which these athletes have achieved their nominations. They serve as impressive role models, especially for those who find themselves in a similar situation. The DOSB is proud to support these athletes on their path to the Olympic Games. We wish them all the very best and every success in Tokyo!"