Faces of the Games
You should know these six athletes in the German Olympic team.
Stephan Hermsen / 22.07.2021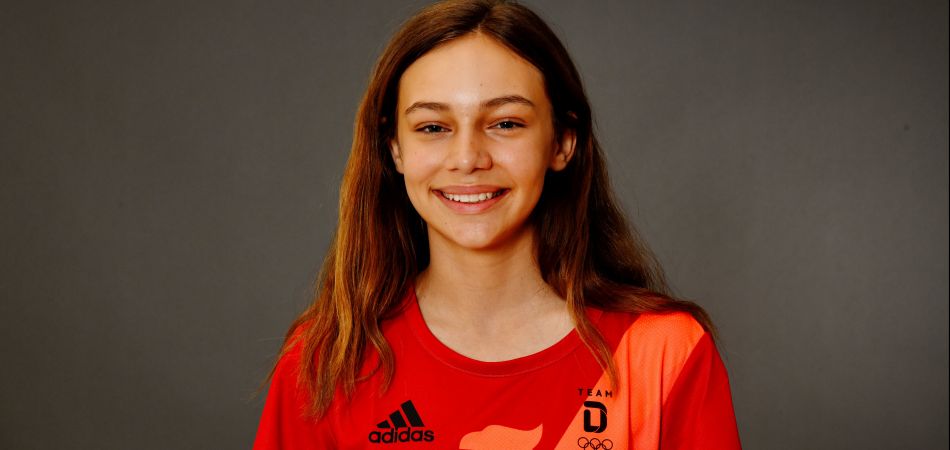 In the next few days some 430 top athletes from Germany will compete at the Olympic Games in Tokyo. Find out more below about six of many impressive athletes in different disciplines.
Skateboarding: Lilly Stoephasius
Germany's youngest participant at the Olympic Games is just 14 years old: Lilly Stoephasius from Berlin belongs to the international skateboarding elite. The teenager won bronze at the World Skate Vert World Championship in 2019 and silver at the European Skateboarding Championships the same year. Stoephasius competes in the park discipline, which involves completing incredibly daring jumps in a kind of concrete trough. She could already stand on a skateboard before she was able to walk properly. She has always been coached by her father, and the family travels with her to competitions. In spite of all the effort involved, according to the young athlete, "it's totally fun." She hopes her participation at the Olympics will give a boost to other female skateboarders, who have received less money from sponsors and at competitions than their male counterparts in the past.
Boxing: Ammar Riad Abduljabbar
The German squad in this discipline is made up of only three people – one female boxer and two male boxers. Ammar Riad Abduljabbar had to fight for his ticket to Tokyo in every respect: he followed his father from Iraq to Hamburg at the age of 15 after struggling along doing odd jobs. He was only able to buy his first boxing gloves with help from an uncle. "I bought them second-hand and was very proud to wear them during training at my first club HBC Heros." Now, at the age of 25, the heavyweight distinguishes himself in the ring through his determination and strong will – also in his decisive Olympic qualifying fight, in which he triumphed over a larger opponent.
Track cycling: Theo Reinhardt
The racing bike that Theo Reinhardt will use to compete for medals in the team pursuit and madison track cycling events weighs just seven kilograms. During competitions the 30-year-old Berliner travels at speeds of up to 70 kilometres per hour, putting up to 1,000 watts into the pedals. For comparison: an output of over 150 watts is considered top athletic performance in medical heart examinations. In 2018 Reinhardt unexpectedly became world champion in the madison discipline. Since then he has further improved his technique and increased his tactical expertise. In Tokyo he will have to prove that it is enough against the international competition.
Shooting: Monika Karsch
Monika Karsch, the 38-year-old markswoman from Schongau in Bavaria, competes in the air pistol and pistol disciplines. The trained nurse has been a "sport soldier" for 16 years and holds the rank of master sergeant. Although Karsch mulls over how meaningful the Olympic Games are in the face of the coronavirus pandemic, she says: "I believe there'll be an Olympic spirit. I'm looking forward to the Games almost more than Rio." She explains that that's because many of her competitors for medals have meanwhile become friends – members of the small international community of female shooters know each other well. Karsch wants to enjoy the Olympics, "because it's simply wonderful to finally experience the bustle of competition again".
Discus throw: Daniel Jasinski
Daniel Jasinski, the discus thrower from Bochum, is a giant in his discipline and in purely physical terms: he is 2.07 metres in height and 125 kilograms in weight. The 31-year-old athlete unexpectedly won the bronze medal five years ago in Rio, but his success was overshadowed somewhat by the fact that Christoph Harting took gold for Germany in the same competition. Harting is not taking part this time, but Jasinski will be there with his discuses: normally he takes two with him – a yellow one and a black one, one with a slightly rougher edge. "Usually I warm up with both and then make a decision, depending on my form that day – the right feeling plays an important role."
Hockey: Lena Micheel
Lena Micheel wields her hockey stick for the German national team. The 23-year-old athlete has played in other 70 international games and, among other things, been runner-up in a European Championship. She learned to play hockey in Berlin with Zehlendorf 88. The law student now lives in Hamburg and plays for Uhlenhorster HC, which has won the German Championship eight times. Micheel says the coronavirus pandemic and the postponement of the Games made things very difficult at first. She was aware how important a sense of community is. "Club life and meeting with the national team are what I missed most."