"Back in the ring at last"
Boxer Nadine Apetz was stymied by coronavirus restrictions during the Olympic qualification process. Now she wants to go back on the attack.
Transcript writer: Sarah Kanning / 22.09.2020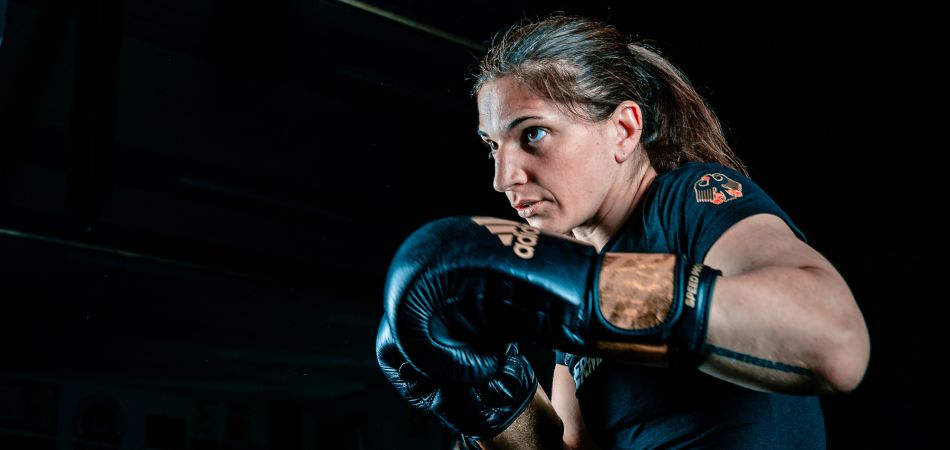 Nadine Apetz is a 34-year-old boxer, a member of Germany's national team and the top club team Olympia, which is based at the Rheinland Olympic training centre in Cologne. She didn't start boxing until her mid-20s after attending a university course. Today she is virtually unrivalled in Germany in the weight class up to 69 kilos. Her great dream is to participate in the Olympic Games.
"When the lockdown was imposed in Germany in March, I was boxing in London to qualify for the 2020 Olympic Games. My most important qualifying bout for Tokyo was imminent, and we athletes were living in a kind of bubble, ignoring everything around us with nothing in our heads but qualifying for our biggest dream.
We athletes were living in a kind of bubble and had nothing in our heads but qualifying.
Boxer Nadine Apetz
We were taken completely by surprise when the Olympic Committee's announcement came and the boxing qualification had to be put on hold. The very next day we were back in Germany, where life came to a virtual standstill. I was sad and frustrated, we had no idea what would happen next. I had to carry on training, but we couldn't go to the gym. It was all very difficult, it was like suddenly braking your car from 100 to zero. When the Olympic Games were postponed to 2021, it came almost as a relief to me.
In 2021 I will go back onto the attack – although I'm not sure what I'll do if the Games are postponed to an even later date. After all, I'm currently writing my doctoral thesis in neuroscience, and I wanted to finish it after the Olympic Games. Now everything has been delayed for at least a year.
But I'm optimistic. The first international tournament starts in Cologne in October 2020 and I'm really looking forward to finally getting back into the ring. We all hope that the health arrangements will be sufficient and that athletes from as many nations as possible will be able to take part. After all, the Olympic idea is all about this sense of international togetherness."
You would like to receive regular information about Germany? Subscribe here: