"More customers came than I had expected"
How the coronavirus caused Frankfurt café proprietor Laurent Cottin to change his business strategy.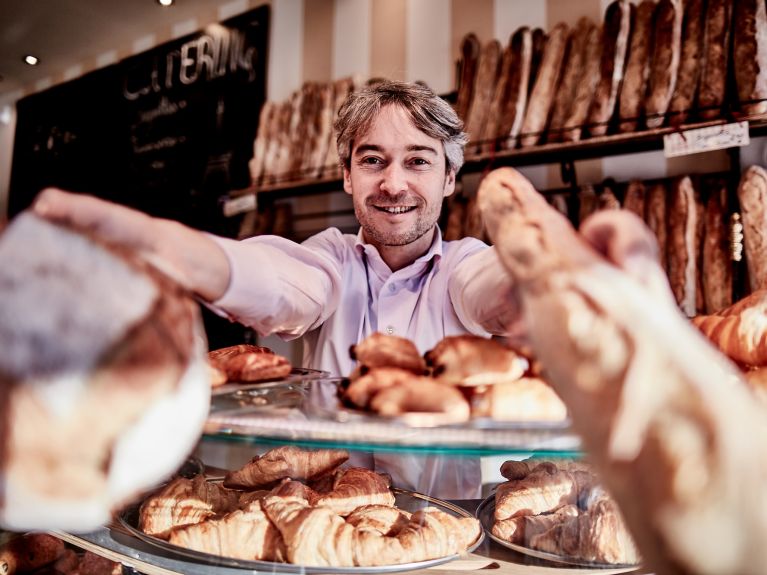 "Baguette Jeanette is a French bakery and bistro in Frankfurt am Main. Our breads and pastries are made in our own bakery by master bakers from France; the flour comes from our own mill in the Vosges mountains." Proprietor Laurent Cottin tells how hard his bistro was hit by the coronavirus.
Mr Cottin, Baguette Jeanette is usually open from early to late 365 days a year. Did you have to close during lockdown?
The bistro was closed to begin with, but our bakery stayed open every day, although we closed earlier in the evenings. The bistro normally accounts for 40 percent of our turnover, but that was completely wiped out. My forecast was that without a bistro we would be broke in three months at the latest. Because the fixed costs remained constant. A disaster!
What did you do then?
I was one of the first in Frankfurt to apply for emergency aid. The money was on my account just three days later. I really must say a word of praise to the German government for this! They kept their promise. I deferred my payments to the tax office and put almost all employees on short-time work. To make up, I spent more time in the shop myself. Luckily I didn't have to dismiss anyone, but employees who left were not replaced.
Was it very quiet?
More customers came than I had expected. The people who usually ate in the bistro discovered our sandwich shelf and bought their snacks at the counter. Some came every day. They motivated us to persevere. As a result, our over-the-counter sales increased and we only lost 20 percent instead of the expected 40 percent. It was a miracle!
Has everything returned to normal since the bistro reopened in May 2020?
No, people are afraid to sit inside. I fear the worst when the weather gets too cold for the terrace. I want to buy air purifiers. If that doesn't help, I'll have to close the bistro.
Do you lie awake at night worrying?
No, I'm an optimist. I'm only afraid one of my staff might become infected and we'll have to close the shop. Coronavirus has forced me to make decisions. For years I've been trying to increase the turnover in the bistro. Now we're concentrating on our bakery and would like to open more branches once sales have stabilized. I hope the rents will fall due to the coronavirus and we'll soon find a suitable shop. Because people always buy good bread and pastries.
You would like to receive regular information about Germany? Subscribe here: