"Foreign guests are more generous"
Isabella Teufel is a waitress in Berlin. Why she loves her job – and what waiters and surgeons have in common.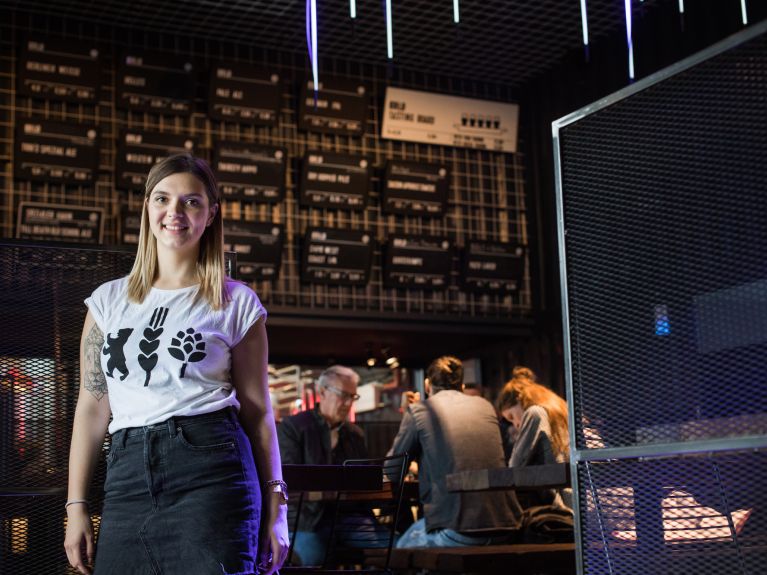 "Although I'm only 24 years old, I'm already an 'old hand' in the catering business. I started working part-time as a waitress at the age of 16 – and then the work became my great passion. I love helping people and giving guests a good time, cheering them up and spoiling them. I dropped out of higher secondary school and decided to train as a restaurant manager. Lots of guests, lots of pork knuckles, an incredible amount of work: that's what my training was like in a typical Bavarian restaurant in my home town of Bayreuth. Even though little attention was paid to the theory, it was there I learned to think in a business-oriented way.
I moved to Berlin a few months ago and am now deputy manager of a mixture of restaurant, beer garden and bar. We even have our own brewery – I like that, because in Bavaria I had already developed a passion for the theory of beer brewing. 
I work from early afternoon until one o'clock at night, both in the office and serving. I take care of duty rosters and orders; two days a week I organize the work sequence for the evening; and on two days I get involved in what I might call 'the normal madness of being a waitress'. That's important to me, but it's also strenuous. You quickly get to know human nature in the catering business, but it's a long, hard road. Physically and mentally it's hard work. We need to be able to hide any personal problems, reply to criticism in a friendly way, and stay on our feet for many hours. 
Today, people in Germany eat out much more often than in the past – but their expectations on variety and quality have risen: the products must be regional and seasonal, and there are lots more people who don't eat meat or any animal products at all than there were a few years ago. So a restaurant must meet a wide range of different demands. And unfortunately this is not reflected in the tips you receive – especially in Berlin. Foreign visitors are generally more generous; older Germans often give less than the younger ones. It's a shame because, after all, tipping is a sign of recognition. The waiter must always be attentive – almost like a surgeon during an operation."
Transcript writer: Nicole Sagener
How much turnover does the catering business make in Germany? 
In 2017, the catering industry in Germany generated around €55 billion, according to the German Hotel and Restaurant Association. Experts expect that figure to increase to more than €61 billion by 2021. In 2018, there are about 72,500 restaurants (including 760 with Michelin Stars), more than 34,000 snack bars and almost 11,500 cafés.
How many people work in the catering business?
More than 400,000 people in Germany have regular jobs paying social insurance contributions in the catering trade – with qualifications such as 'restaurant specialist' or 'expert in the hospitality industry'. A full-time wage-earner grosses an average of about €27,600 a year.
What training occupations are available in catering?
Restaurant specialist: the training is a dual apprenticeship lasting three years and includes periods of practical training in restaurants and theory at vocational school – more time is spent learning the practical side in restaurants etc. Applicants should have a secondary or comprehensive school-leaving certificate.
Expert in the hospitality industry: This dual apprenticeship takes two years. Here, too, applicants should have a secondary or comprehensive school-leaving certificate.