"Donations for refugees in Hamburg and Erbil"
Corinna Walter volunteers at Hanseatic Help for refugees.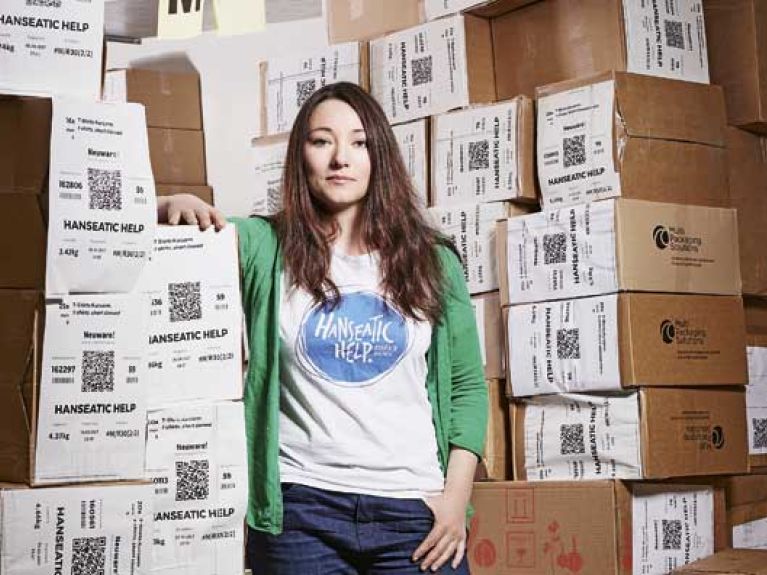 Corinna Walter, volunteer working with refugees
The researchers from Bernhard-Nocht-Institute work in Hamburg and help people around the world. A few hundred metres down the Elbe things happen slightly differently. Between all the boxes, clothes and coconut shampoo the goal here is, first and foremost, to take care of those who have arrived in Hamburg from far-off lands – refugees to be specific. The large warehouse behind the Fish Market has been occupied for the last two years by the organisation Hanseatic Help.
In summer 2015 when tens of thousands of refugees were coming to Germany, the people of Hamburg were also ready and waiting to welcome them. They wanted to take in the refugees, teach them German and donate food and clothes. They used to meet in the exhibition halls located in the centre of the city. The local people would bring the refugees what they needed in vast quantities and the donations never stopped coming. Within just a few days the halls were filled to the brim with clothes, shoes, toiletries and toys which volunteers had to accept, sort through, pack into boxes and take to the refugees. It was largest-scale logistics operation run by volunteers helping refugees in Germany. "It was just crazy," says Corinna Walter.
Corinna Walter is 37 and writing a PhD on Brazil and its policy towards its neighbouring countries. However, her daily routine actually involves writing emails and coordinating volunteers. She is part of the team at Hanseatic Help which has been dealing with the waves of refugees arriving and directing them into the right channels.
In summer 2015 Corinna decided to pass by the project and help out for a couple of hours as she had some free time. She was sent to the toiletries section as it happens. She went over to pitch in and started packing: shampoo, toothbrushes, toothpaste, razors, soap, moisturisers. She came by again the next day and the day after that too. Nowadays Corinna does little else in her spare time and can recognise the different hand creams and shampoo brands just by looking at the cap.
Hundreds of others have done the same as Corinna. They helped out once and ended up staying, each one in their particular section. Some sorted children's socks and others jeans, while others developed a computer programme to introduce a logical system into the chaos which they fine-tuned over months. When they had to leave the exhibition halls and move into the warehouse in the harbour area, they divided up the individual departments in the most logical and sensible way possible. In one half of the warehouse the donations are received, unpacked and sorted and in the other half they are packed into cardboard boxes, which are labelled with a barcode and stacked up.
The boxes are then transferred onto trucks and delivered to refugee homes as well as homeless people in the city and others in need. They are now at the point, explains Corinna, where they transport anything which is not needed in Hamburg to other countries: to refugee camps in Sicily, Greece, Erbil in northern Iraq. Hanseatic Help helps those in need quickly and free of bureaucracy and as such, it is more than an organisation for people in need rather an organisation which reflects the identity of the whole city. An organisation which combines those very honourable virtues which have been observed in Hamburg for centuries: tackling problems with pragmatism and a civic commitment to helping others. //